Oct. 27
CLARKSTON — "H is for Hawk" by Helen Macdonald is the memoir up for discussion at Book Night @ Your Library here Oct. 27.
The discussion begins at 7 p.m. in the Asotin County Library Annex meeting room, at 417 Sycamore St.
Oct. 27
MOSCOW — The University of Idaho's student Environmental Law Society Fall Film Festival is from 6:30 to 9 p.m. Oct. 27 at the Kenworthy Performing Arts Centre here.
The five films featured are "Jumbo Wild," "Death By Design," "Salween Spring," "Juma of Itanda" and "Important Places." The total run time of the movies is 2½ hours.
Doors open at 6 p.m., and admission is free. The theater is at 508 S. Main St.
Oct. 27
MOSCOW — The Pundits and Premiers faculty recital is 7:30 Oct. 27 in the Haddock Performance Hall on the University of Idaho campus here.
The recital features Jason Johnson on French horn, Giselle Hillyer on violin and Roger McVey on piano.
Cost is $5 regular price or $3 for students and seniors.
The hall is in the school of music, on Blake and West Sweet avenues.
Oct. 28
CLARKSTON — Get ready to roll 'em at a Bunco Night fundraiser beginning at 6 p.m. Friday at the Holy Family Catholic Church parish hall here.
Proceeds from the game night will benefit the Tri-State Memorial Hospital Auxiliary in Clarkston.
Tickets are $10 per person and may be purchased at the Tri-State Hospital Gift Shop or at the door.
Each ticket includes snacks, beverages and prizes. Costumes are welcome.
The hall is at 1109 Chestnut St.
Oct. 28
CLARKSTON — New York-based classical guitarist Peter Fletcher will perform at 6:30 p.m. Nov. 28 at the Asotin County Library here.
His concert is part of a nationwide tour in support of his latest CD.
Fletcher's program includes Bach's "Lute Suite No. 3," "Five Bagatelles for Guitar" by British composer William Walton, Fletcher's transcriptions of the French composer Erik Satie, and works by Dowland, Llobet and Segovia.
In addition, he will perform a special arrangement of the Shaker hymn "Simple Gifts."
The library is at 417 Sycamore St.
Nov. 2
LEWISTON — Los Angeles-based musician Dan Henig will perform at 8 p.m. Nov. 2 in Silverthorne Theater on the campus of Lewis-Clark State College here.
Henig's performance is free, but because of content, organizers recommend it only for audiences 18 and older.
Originally from Ann Arbor, Mich., Henig now lives in Los Angeles where he is working on a record set to be released this winter, according to his website. He describes his music style as a soulful blend of pop and rhythm & blues, with lyrically-driven melodies.
Nov. 2
PULLMAN — The 24th annual Washington State University Jazz Festival will be from 8 a.m. to 6 p.m. Nov. 2 here.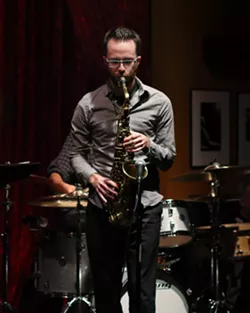 A gala concert at noon will feature saxophonist and guest artist John Nastos performing with the WSU Jazz Big Band in Bryan Hall Theatre.
The WSU faculty ensemble, Jazz Northwest, will perform in Kimbrough Concert Hall beginning at 4:20 p.m.
High school and middle school bands will perform in Kimbrough from 8 a.m. to noon and again from 2 to 4 p.m.
Nastos will give a clinic at 1 p.m. in Bryan Hall following the noon gala concert.
Admission to the gala and afternoon concerts is free.