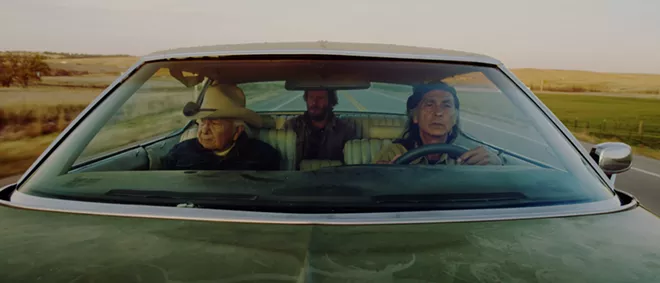 By Kaylee Brewster
Steven Lewis Simpson, once moved by a piece of American Indian history, now moves others with his latest film "Neither Wolf Nor Dog" which is showing in Lewiston (see details at bottom).
Simpson first discovered American Indian culture at a museum in his native country of Scotland. There, he saw the "ghost shirt," a famous tunic worn by a Sioux warrior killed in the 1890 Wounded Knee Massacre.
"I instinctively knew I would follow it back," said Simpson, who has worked on several film projects devoted to American Indian culture including "Rez Bomb," "A Thunder-Being Nation" and "The Hub."
Kent Nerburn, author of "Neither Wolf Nor Dog" gave his novel to Simpson to adapt into a film. The story follows Nerburn (played by Christopher Sweeney) who meets a 95-year-old Lakota elder, Dan (Dave Bald Eagle. Dan gives Nerburn a box of notes to turn into a book. Nerburn then travels with Dan and others as he learns about American Indians and American culture.
Simpson said the film has found success in theaters through word-of-mouth and local media. People respond, often emotionally, Simpson said, to the Lakota elder Bald Eagle, who was 95 at the time of filming and passed away in 2016. Simpson believes that years from now Bald Eagle's performance will still have an effect on people.
"It doesn't get any better than that, knowing that it impacted people so deeply," he said.
360 spoke to Simpson by phone to ask a few more questions about his independent film.
360: Why did you decide to show the film in Lewiston?
Simpson: We've had phenomenal audience response in parts of the country that Hollywood doesn't pay attention to, especially in rural areas. (Author) Kent Nerburn is well-known in that area. He wrote a non-fiction book on Chief Joseph ("Chief Joseph & the Flight of the Nez Perce") and spent some time there. There is a following of the novel in the Northwest and the Plains. We might do places like L.A. and New York later, which is a reversal what does this mean?of other films. We're building our reputation.
360: The film was self-distributed and funded through Kickstarter, why did you choose to go that route?
Simpson: We had the freedom to do it right. We had a 95-year-old star who was the absolute perfect person for the role. Hollywood has a narrow view and likes an easy sell. In Spokane we had a nine-week run in theaters, which was our longest run. Other theaters are starting to pay attention. Hollywood used to move people, and with our film people are emotional. People laugh and fall in love with this elder. Dave Bald Eagle put his soul on screen, and people are touched by it.
360: You had a very small cast and crew (one sound man and one miscellaneous crew member), how did you make that work, and what challenges did you face?
Simpson: Well, normally the biggest challenge is just remaining sane through it all. Our lead actors, sound and hosts were amazing. They took all the stress of my shoulders. In filming, everything has to be done five minutes ago. We did most everything in one or two takes of one- to five-minute sequences. We didn't have to compromise, it was a gift. The last scene we did was very emotional at Wounded Knee. Dave's own background was closer (to that) than the character, so we threw out the script, and Dave improvised the whole scene. At the end he said, "I've been holding that in for 95 years." It was very powerful standing there. But that's because Dave trusted us; it was private, with a big crew, it could have never happened.
360: What are the difficulties in telling and even selling films about American Indians ?
Simpson: I think it's a perception thing with people. People approach it from a cultural standpoint, and it doesn't work. Because any story is all about character -- who they are as an individual. If you approach it from the cultural side, you will stereotype them. We never had to take the cultural side because the characters had it in their DNA, and so did the performers.
As far as selling the film, marketing is all about money, but we relied on word of mouth. We would rather build up a reputation in the cinema. People can experience it together in theaters and stay in their seats during the credits, they don't do that at home. It allows the weight of the film to be absorbed more.
I've been pleasantly surprised people find the jokes together too, even the Lakota specific jokes. People in a theater in Germany were laughing because they connected with the character; they were laughing at the joke, not the punchline. That's when you know when the audience is paying attention.
IF YOU GO WHAT: "Neither Wolf Nor Dog"
WHEN: Daily at 4 p.m. and 6:35; 9:10 p.m. Friday through Sunday; Saturday and Sunday (10:45) and (1:25)
WHERE: Village Centre Cinemas, Lewiston
https://www.youtube.com/watch?v=lZ9zQ7_KwCI