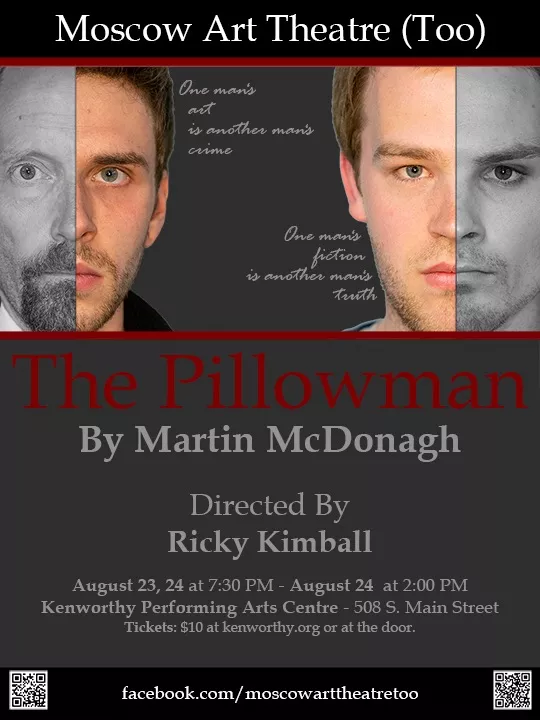 Moscow Arts Theater (Too) will present three performances of the rarely seen horror-comedy "The Pillowman," by Martin McDonagh, Friday and Saturday at the Kenworthy Performing Arts Centre in Moscow.
"The Pillowman" is set in an interrogation room in a nameless totalitarian state, where a writer named Katurian (Bryce Gowey) is being questioned by detectives Tupolski (Dave Harlan) and Ariel (Austin Fred). They suspect his involvement in several recent child murders because of the way his dark and gruesome stories appear to reflect events around the murders. In the next room with his own stories to tell is Katurian's mentally disabled brother, Michal (Joseph Winder). Drawing on a diverse variety of influences such as Grimm's Fairy Tales, Kafka and Antonin Artaud, the controversial, dark comedy asks: Where is the line between truth and fairy tale? Do stories have the power to cause atrocities?
Author Martin McDonagh is one of the most acclaimed living Irish playwrights. He's also a screenwriter, producer, director, winner of an Academy Award and two Golden Globes. His 2018 ?lm, "Three Billboards Outside Ebbing, Missouri," won multiple awards worldwide. "The Pillowman" was recognized with the Laurence Olivier Award for best new play, two Tony Awards for production, a New York Drama Critics' Circle Award for best foreign play and two Drama Desk Awards.
The show will be directed by Ricky Kimball, a master of fine arts candidate in directing at the University of Idaho.
Performances are at 7:30 p.m. Friday and Saturday, with a 2 p.m. matinee also on Saturday. Tickets are $10, available at the box office or at www.kenworthy.org. The theater is at 508 S. Main St., Moscow.
-- Katie Higgins