By Jennifer K. Bauer
A large building, a community to connect and a plague — those were the three balls Jenny Kostroff juggled when deciding whether or not to plan the 1912 Center's annual Winter Market for 2020-21.
The market is a tradition for area artisans and local producers, who sell everything from frozen meats to hand-crafted jewelry. Many assumed Kostroff, the center's executive director, would cancel this year, but to Kostroff the market wasn't that different from a grocery store. If people have learned to navigate that, she reasoned, there must be a way to create a comfortable shopping experience in her building. Timing was on her side. A massive renovation of two large rooms on the center's second floor was nearly done, creating more space for physical distancing.
The first market of the season is Saturday and includes many shopping options, including special hours for high-risk groups and ways for people to shop from home.
"We've got a whole concept. We're asking for people's patience. This is the first time we've ever tried some of these things, and we're trying them all at once," Kostroff said.
In a normal year, the market typically features about 30 vendors each time. The first market of the season will have fewer, about 12, spread out in the Great Room with others outdoors on the plaza, if weather cooperates, Kostroff said. "We have a fewer number signed up for the first market in case work is not completed upstairs."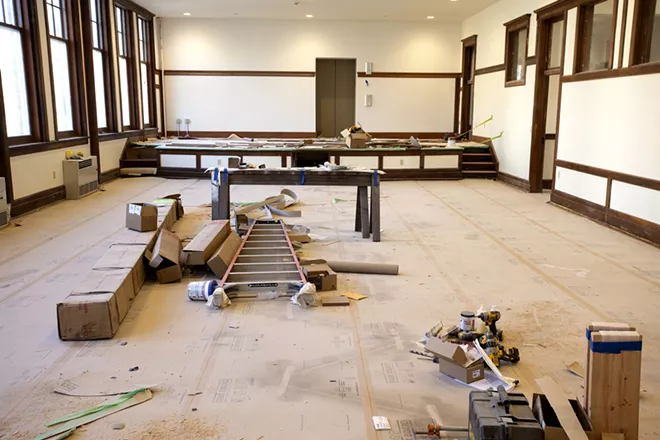 For those who shop from home or don't wear masks
Masks are required at the market, but for those who don't wear masks, or who prefer to stay home, there's an option to shop the market remotely using a personal shopper. These are volunteers who will shop with people from 9-10 a.m. on market days over the phone.
"We want to make sure that folks who want to come and can't, or can't wear a mask, can support the vendors. I understand all sides of this," Kostroff said.
Personal shoppers will use apps like Facetime to show customers what's available that week (each market features new vendors). People can cash out with one credit card payment over the phone or via a PayPal link online. Purchases can then be collected via curbside pickup after 10 a.m. To arrange for a personal shopper, people should call the center the week before that Saturday's market at (208) 669-2249 to give staff time to schedule volunteers, Kostroff said.
Special hours for at-risk individuals
From 9-10 a.m., the market is open only to personal shoppers and people who are in high-risk groups. Nine to 10 people will be allowed to shop at a time. It will open to the general public from 10 a.m. to 2 p.m.
"It might not be completely set up, but it will be ready to do sales," Kostroff said.
New boutique coming
At the Nov. 14 market, the number of vendors will increase as the event expands into the building's second floor. This will include the addition of a boutique operated by volunteers who will sell items by vendors who aren't on site. The boutique is planned for markets scheduled Nov. 14, Dec. 5 and 12.
Vendors are asked to stay home if they are sick. If they become ill, they can arrange to have their goods brought to the boutique, where someone will set them up for them.
Kostroff said the number of vendors who usually apply to sell at the market is down this year from around 120 registrations to 70-something. Some people don't want to interact with the public during the pandemic. Others might not want to wear a mask.
"A number of vendors are not comfortable, for whatever reason," she said. "I give everybody a break. Navigating how to connect with the community during this pandemic has been challenging for everyone."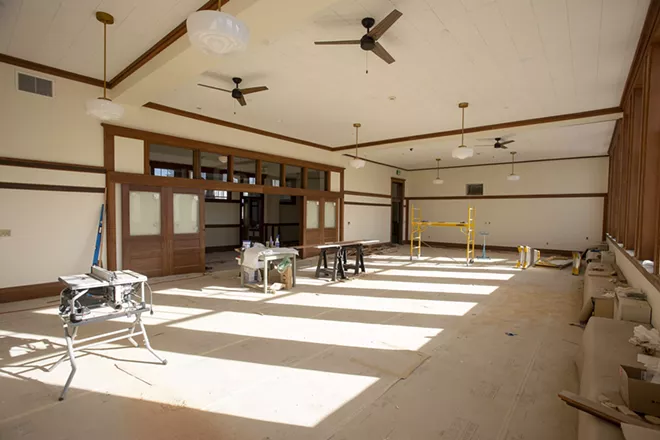 Expanding to the second floor
As a building, the 1912 Center offers many benefits during the pandemic — 12- to 13-foot-tall ceilings, dozens of windows that can be opened to circulate fresh air, and large, spacious rooms.
The long-planned renovation of the second floor began last January. The two nearly completed upstairs rooms each are equivalent in size to the Great Room on the main floor.
"In a year (when it is) most important to keep space between people and air moving about, it means to me the market will be a safer experience for everybody," Kostroff said.
One of the rooms, called the Reception Gallery, has a large set of sliding pocket doors that open to the 10-foot-wide hall. It eventually will include a bar, she said. This is where the boutique will be set up.
Across the hall, the Lecompte Room features a stage and room for seating about 100. It will have a drop-down screen and projector. It is named for Janet Lecompte, who donated $2 million to save the 1912 Center.
Renovation work included installing a sprinkler system, new flooring, lighting and electricity, two separate bathrooms and elevator access.
Kostroff sees the market as the first chance for the public to see the new spaces. Eventually they will be available to rent for events and gatherings. Work on four additional classrooms on the floor is expected to start early next year, she said. Moscow's Friends of the Library will open a book room on the floor Nov. 14 to sell books by donation, with some of the proceeds going toward future renovations at the center.
IF YOU GO
WHAT: Winter Market.
WHEN: 10 a.m. to 2 p.m. Saturday, Nov. 7.
WHERE: 1912 Center, 412 E. Third St., Moscow.
COST: Free.
OF NOTE: See story for details on special hours for at-risk shoppers and shop-from-home options.