Much like Satan and rock 'n'roll, there was a time when pinball was the scapegoat for corrupting youth. For years, a pinball prohibition outlawed or heavily restricted pinball machines in cities across America. It wasn't until the late '70s that, in an effort to increase revenue, the New York City city council overturned all pinball prohibition after a man named Roger Sharpe, "the man who saved pinball," demonstrated that it was a game of skill and not chance.
Pinball machines, or pins, for short, grew in sophistication as technology allowed, from the earliest electro-magnetic machines, which were 100 percent analog; to the solid-state era, which saw computer boards and digital sound running the show; to the addition of dot-matrix displays, or DMDs, in the early '90s.
DMD screens were located below the back glass and allowed a level of sophistication not previously possible. The screen featured animations that allowed the pin to tell a story, enhancing the theme featured in the artwork, and also increased the sophistication of the game. Where early pins were simply about the high score, games with DMDs allowed for activated modes and triggered sequences with corresponding DMD animations to occur if the player hit a designated succession of shots.
For example, the "Addams Family" pinball game, touted as the highest-selling pinball machine of all-time, is themed around the 1991 film of the same name. Players "tour" the family mansion, visiting various rooms by hitting specific successions of shots. The game features direct correlations to the movie. One such connection is a rotating bookcase that reveals the family vault. In the pinball game, the vault locks (or holds) balls for a multiball mode. Another example of this is when a specific succession of shots activates a timed "Mamushka" mode, which adds points to the end-of-ball bonus and features actor Raul Julia's voice declaring, "the Ma-mush-KA!" In the film, the "Mamushka" is a dance sequence during a family gathering. Touches like these are common throughout pins of the DMD era.
The '90s are considered the golden era of pinball for many and some of the pins from that time — "Addams Family,"' "Twilight Zone," "Medieval Madness" and "Attack from Mars," to name a few — are among the most sought-after machines more than three decades later.
The popularity of arcades dropped drastically in the late '90s, as home video game consoles grew increasingly sophisticated. Naturally, pinball suffered, too. On the national scale, only Stern Pinball (formerly Sega's pinball division) survived and continued to release new pins throughout the early 2000s. As Stern hung on, the popularity of pinball shifted from arcades to private collectors, and the market grew. Thanks to COVID-19, with folks spending copious amounts of time at home, the home-use market exploded.
Today, Stern is the leading manufacturer of new pinball games, with licenses to many top franchises: Marvel, "Jurassic Park," "Teenage Mutant Ninja Turtles," along with a growing line of music-themed games, including Metallica, Iron Maiden, AC/DC and Led Zeppelin. Other, albeit much smaller manufacturers, popped up in recent years, such as Spooky Pinball, with Alice Cooper and "Rick and Morty"-themed pins; and Jersey Jack, whose "Wizard of Oz," "Willy Wonka" and Guns N' Roses pins garnered high praise from the pinball community.
Digital pinball also is making headway through a variety of manufacturers, with models of various sizes. In general, these models feature a traditional pinball body with a digital screen instead of a playfield and a computer inside that comes loaded with potentially hundreds of machines. Digital pins often feature haptic feedback and gyroscopic control to create a physical experience.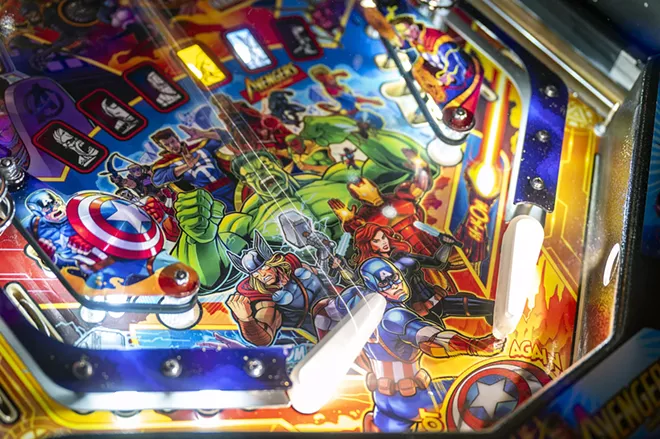 For a novice, though, walking up to a pinball machine in the wild is daunting. Playfields are cluttered with lights, ramps and all manner of artwork and apparatus. And at 50 cents to $1 per play, why spend your money when a game can be brutal and woefully short?
Pinball, like any good game, can be analogous to life. Hang on, shut up, and control the few variables you can while lasting as long as possible. There's a zen-like adrenaline rush when it all comes together. Learning to aim shots and control the ball comes with time. There's no thrill like beating your own high score or finishing a mode you've started 30 times before. When in doubt, shoot for whatever is flashing or lit up and focus on keeping control of the ball, rather than slapping at it the second it gets close to your flippers. If you find a pin you really like, look up the rule set so you can understand the various modes.
To find pinball in the wild, www.pinballmap.com is your best tool. In the Quad Cities of Lewiston, Clarkston, Moscow and Pullman, the best all-ages place for pinball is Arcade1Up, 1325 Libby St., Clarkston. It has a rotating lineup of five pins, including some modern Sterns.
Thompson enjoys putting somewhat carefully chosen words in relatively meaningful order. He has been to college. He lives in Lewiston and can be reached at lcvrecordswap@gmail.com and on Instagram at @theswap_quadcities. If you'd like to show off your pinball collection, please invite him over.