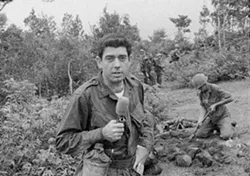 In his early teens journalist Dan Rather contracted rheumatic fever and was bedridden for several years. The radio become his constant friend and he listened daily to the "Murrow Boys," journalists who brought home the story of World War II. Listening to them Rather knew what he wanted to do with his life.
Tonight Rather will receive the 2012 Edward R. Murrow Award for Lifetime Achievement from Washington State University. He will deliver the 38th Murrow Symposium keynote address, "The Power of the Murrow Legacy," at 7 p.m. at Beasley Coliseum in Pullman.
For 25 years Rather was the serious face of news for CBS-TV. He stepped down as anchor of the "Evening News" in 2005 and left the network the next year to create his own investigative team. "In our home, newspapers were 'the poor man's university,' " Rather writes of his youth on his website, danrather.com.
The first member of his family to attend a university, he studied journalism at Sam Houston State Teacher's College. He got his start at a Houston radio station where he covered city hall and the police beat.
"I wasn't sure about television, but the pay raise was enough to make me audition. I was hired on the spot after I ad-libbed a 15-minute newscast without taking my eyes off the camera," writes Rather.
He started at CBS in 1962 and spent 44 years there covering multiple wars and presidents.
Rather says he was 20 when he reported on the case that hooked him on investigative journalism. It was the story of a house fire that killed several African-Americans. It turned out to be a case of arson and murder and there was a community backlash against him for reporting the truth.
"I discovered that I had a passion for getting to the truth, or as close to the truth as I can get. I learned how hard it can be to dig out things that people, especially powerful people, don't want the public to know — things which more often than not turn out to be things that your fellow citizens need to know. Many decades later, the people trying to hide the news are still out there — those who are mad because a story is too inflammatory, or too controversial, or because it makes important people look bad. And in many ways they are more powerful than ever."
Rather's reputation suffered after a "60 Minutes" story about President Bush's Vietnam-era service in the National Guard. The story relied on documents that ultimately could not be authenticated. After leaving CBS he founded the company News and Guts and became anchor and managing editor of Dan Rather Reports. Last fall, the AXS.TV program was awarded an Emmy for investigative business reporting.
Who: Dan Rather When: 7 tonight Where: Washington State University Beasley Coliseum Cost: Free