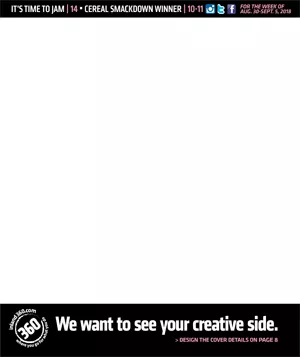 For the second year in a row we're offering you a blank cover. (Download blank cover PDF)
No, this is not a reminder of what life would be like without your weekly Inland 360 or the work journalists do every day to provide you news about your community (but it doesn't hurt to stop and ponder that). We're bringing back the Design Our Cover contest because of popular demand.
Our covers are an important part of our weekly package. Our staff hashes out ideas at our Wednesday planning meetings, bouncing off ideas that get crazier and crazier as the conversation goes on. We are always seeking new, fun, eye-catching and thought-provoking images.
Last year we turned it over to our readers as a contest, and we received many wonderful entries. We picked multiple winners and ran their work throughout the year. You can draw cartoons, paint, use a computer or a camera — however your creativity flows. There is no theme; it could be seasonal or local or topical. Winners whose work is selected will have their work featured as the cover of a future edition, win two free movie tickets and receive an Inland 360 sticker.
Here are the rules and guidelines for this year's contest.
Work must be original and you should expect that we will place the 360 logo somewhere in the design if you do not include it.
Create on the cover of this week's edition, or make your own using the dimensions of 10.5 inches wide by 12.5 inches deep. There's also a printable PDF version of this week's cover, although you'll need a large printer.
Contest entries must be received by 5 p.m. Sept. 28.
Here are the ways to get your finished work to us:
Drop it off addressed to "Inland 360 Editor" at the front desk of the Lewiston Tribune, 505 Capital St., Lewiston; or the Moscow-Pullman Daily News, 220 E. Fifth St., No. 205, Moscow.
Mail it in a large envelope (don't fold it) to: Inland 360 Cover Contest, P.O. Box 957, Lewiston, ID 83501.
Email it to: contests@inland360.com
Be sure to include your name, address and email or phone number on the back or in correspondence so we can contact you, credit you for your work and send you a prize if you win.