By Erin Kolb
Commentary
On a recent adventure to the grocery store, I caught part of an episode of "The Pulse" on NPR. In it, the host talked about "rabbit holes." She explained, "We've all been there -- you start out Googling local pharmacy hours and all of a sudden you find yourself reading about how to construct a pool from Gruyere cheese."
The program went on to discuss oddball topics and answer questions that, in all seriousness, you didn't even realize were a thing, like: "Why do people drink so much tomato juice on planes?"
Apparently, tomato juice is consumed in huge quantities and not long ago, when United Airlines announced it would be taken off the menu, people freaked out. Turns out there is scientific research about tomato juice and altitude! Who knew? The bottom line is: tomato juice tastes better in the air. Needless to say, United caved and tomato juice remains. I didn't realize how interesting tomato juice could be. (It remains to be seen if I'd now order a tomato juice; I prefer ginger ale).
Energized by rabbit holes and my love of books, I present this list of rabbit-hole worthy titles available from the Valnet library system:
"A Walk Around the Block: Stoplight Secrets, Mischievous Squirrels, Manhole Mysteries & Other Stuff You See Every Day (and Know Nothing About)," by Spike Carlsen (2020).
In this celebration of the seemingly mundane, Carlsen opens our eyes to the engineering marvels, human stories and natural wonders right outside our front doors. He guides us through the surprising allure of sewers, the extraordinary path of an everyday letter and the genius of recycling centers.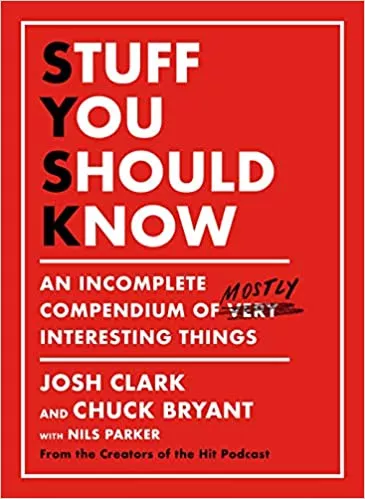 "Stuff You Should Know: An Incomplete Compendium of Mostly Interesting Things," by Josh Clark and Chuck Bryant (2020).
Clark and Bryant, creators of the popular podcast "Stuff You Should Know," penned this book filled with rabbit-hole tangents and digressions – including charts, illustrations, sidebars and footnotes. Topics include: murphy beds, the history of facial hair and the psychology of being lost.
"The Physics of Everyday Things: The Extraordinary Science of an Ordinary Day," by James Kakalios (2017).
A physics professor reveals the invisible science behind the functioning of everyday things and activities that we often take for granted, including how electricity is transported from a power station to our toasters and what really makes digital "clouds" and electric cars work.
"What if?: Serious Scientific Answers To Absurd Hypothetical Questions," by Randall Munroe (2014).
Have you ever wondered: At what point in history were there too many English-language books to read in one lifetime? Or, what would happen to the Earth if the Sun didn't exist? Munroe provides hilarious and scientifically informative answers to questions that can never be physically solved but are fun to think about.
Kolb is the adult services librarian at Asotin County Library. Her love for reading began at a young age with the Mrs. Piggle-Wiggle series. Let her know what books you're into now at: ekolb@aclib.org.