Fly fishing films don't typically involve lederhosen, a stuffed giraffe and polka music.
"Das Fischer" isn't a typical fly fishing film.
With plenty of props and no dialogue, the 9-minute Wes Anderson-style comedic short film by Moscow's Ben Hernon tells the fictional story of a young German, Otto Rubschlager (Chris Staudinger, Spokane), who is inspired by the legendary outdoorsman Hildebrand Richwine (Andy Abrams, Moscow) to travel to Idaho and learn the art of fly fishing.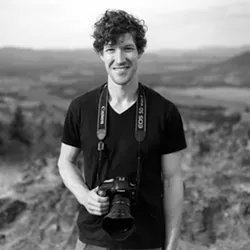 The work is a departure from the usual for Herndon, who has worked full time as a freelance photographer for the past three years. He spends his days capturing outdoor adventure landscapes and lifestyle images for outdoor brands, magazines and the like. Sometimes he gets assigned work, but much of the time he's providing creative energy and content on his own. The perks of the job include adventure and beauty; the downside is that he's got prove his value in a competitive industry. That's how he got thinking about film.
"I'd been told that if you're not doing video too, you're not going to make it," Herndon said.
He likes films that are silly, character-driven and more narrative in form, but that's not what you see in the outdoor adventure genre. As he and his buddy Abrams were talking about spending more time on the river together, the idea of doing a fly fishing film was born.
"It started with that fishing theme and branched out from there over the course of a year," Herndon said.
Herndon gathered funds and a team and shot the film over the course of three days in the region. Locals might recognize a house in Moscow, the Lewiston hill as seen from south of Asotin, the river canyon of the Grande Ronde and a storefront in Lostine, Ore. A tent interior shot was done in the back of The Storm Cellar in Moscow, featuring the head of a 14-foot stuffed giraffe that was hung creatively from the rafters.
Editing the film took three months, after which Herndon submitted it to several film festivals. "Das Fischer" won "Best Angler Film" at the 2017 FilmFestivalFlix Mountain & Adventure Film Festival and is touring internationally with MountainFilm.
And now?
Well, it's online for you to watch. Just because.
"That was one of the fun things about this project. I wasn't interested in enhancing my film career. I could just enjoy it without trying to sell myself," Herndon said.
Overall, it has received positive feedback. Even Germans love it. A friend of Herndon's, musician Bart Budwig, shared the film with some older fly fishermen while traveling in Germany and they laughed at the ridiculous stereotypes the film plays on.
https://vimeo.com/224512897