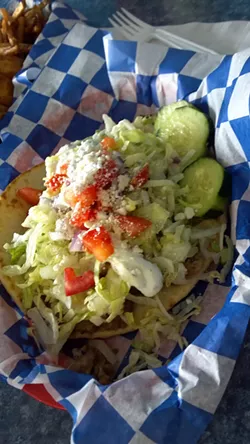 Entry No. 3: Scotty's Third Base Grill
I can't really complain about how truly awful fried food can taste and feel. If you go to an American restaurant with the word "grill" in its title that's the fare. So you have to enjoy it for what it is - that would be the golden-brown degree of fried crispness. This is not the time and place to think of the welfare of your heart.
Third Base Grill is a mom and pop joint with a simple menu pleasing to carnivores and french fry connoisseurs. Plastic cutlery is delivered to the table along with ice water and full, chilled bottles of tartar sauce, ketchup and fry sauce. They're known for serving one of Lewiston's few gyros. They cut their own fries, use local beef, and don't use frozen or pre-made ingredients. Servings are more than ample.
Ordered: Large Gyro - $6.95 Fish and Chips - $7.99
Scotty's Third Base Grill is at 541 Thain Rd., (208)746-0592
Each week 360 features an area restaurant's specialty. Restaurants can nominate their unique dishes at jkbauer@inland360.com.