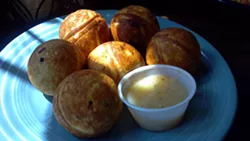 Entry No. 6: At the Old European Restaurant in Pullman you can wash away the tired American breakfast routine of pancakes, toast or waffles with some Austrian coffee while you peruse a menu that tours another continent with selections like Dutch Babies ($5.99-$7.99), Hungarian Goulash ($11.99) and German Potato Pancakes ($7.99 for three).
Here are baked goods one rarely encounters, like Danish Aebelskivers ($7.99), a ball-shaped cross between a pancake and a doughnut made of egg batter. They come stuffed with blueberries or seasoned sausage and Havarti cheese. Some versions are dipped in blackberry brandy syrup. The light and creamy Swedish crepes are made with fresh orange juice and, as stated on the menu, "many eggs." They come in strawberry or lingonberry, with or without sweet cream filling. Lunch versions are also sold.
Orange juice is truly freshly squeezed. There are six oranges in one tart glass ($3.99). On the tables one can find information about the restaurant's crew, from the dishwashers to the cooks, which lends to the friendly atmosphere.
The Old European Restaurant is at 455 S. Grand Ave., Pullman, (509) 334-6381.
Each week we feature an area restaurant's specialty. Restaurants can nominate their unique dishes at jkbauer@inland360.com.