Just in time for the Halloween season, the Lewiston Civic Theatre opens "The Night of the Living Dead" Thursday in Clarkston — not in an old, remote farmhouse, but something quite like it.
As audiences sit together in the old, wooden Clarkston grange building, it won't take much imagination to put them in the secluded farmhouse portrayed in the show, where seven people have been trapped by zombies. As they try to figure out an escape, they turn on each other. The show features plenty of zombies, gore, comedy — and a few audience surprises.
"Shocking, funny, ghastly and cute" are a few words Larry Goodwin, director, uses to describe the show. Based on the 1968 film of the same name, the show is rated PG-13.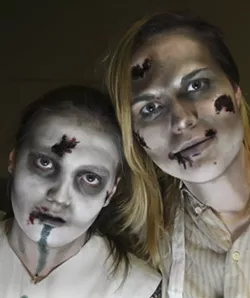 For the first act, the show stays true to the original film, Goodwin said. But after that "it just goes off the rails." It's "Groundhog Day" meets "Night of the Living Dead," he said, as one scene is redone over and over.
Not only does the venue match the setting of the show, Goodwin said, but its limited seating creates a more intimate viewing experience. And yes, there may be times when that line between stage and audience becomes blurred. Those who want to be part of that select audience should buy tickets before they're sold out, Goodwin said.
IF YOU GO
WHAT: "Night of the Living Dead"
WHEN: 7:30 p.m. Thursday through Saturday, next Thursday through Oct. 27 and Oct. 31.
WHERE: Clarkston Heights Grange No. 982, 2220 Reservoir Road, Clarkston
COST: $15 or $10 for veterans, seniors 60 and older, students and children; tickets are available at www.lctheatre.org or by calling (208) 746-3401.
OF NOTE: In connection with the show, a free screening of "Night of the Living Dead" (1968) will be held 7 p.m. Oct. 28 at the Lewis-Clark State College Center for Arts & History. The film, which is rated PG-13, will be followed by a talkback with the theatrical production's director and actors. The Center for Arts & History is at 415 Main. St., Lewiston.