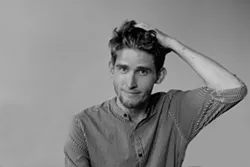 By Dominique Wald dwald@dnews.com
MOSCOW — Kadin McGreevy learned the fundamentals of good theater from his father — who happens to be a farmer.
The two worlds don't normally cross paths, the 22-year-old University of Idaho theater student said, but they still share similarities.
"Even though I didn't inherit the love of hauling hay, I did inherit another farmer characteristic," McGreevy said, "which is the love of a good story."
McGreevy recently returned from a weeklong apprenticeship at the Kennedy Center in Washington, D.C., where he was able to participate in intensive workshops with playwrights and directors.
McGreevy is now filled with anticipation for his full-length directorial debut of "Vigils," which stars UI theater students Kevin O'Connell, Michael Brandt and Maiya Corral, and graduate Micheal Smith. The play debuted Wednesday and runs through Friday with free 7:30 p.m. showings at the Prichard Art Gallery.
The opening scene of "Vigils" won McGreevy the first-place award at the Region 7 Kennedy Center American College Theatre Festival in February and a slot at the National Kennedy Center American College Festival two months later. In April, McGreevy received the Stage Directing and Choreographers National Directing Fellowship.
"Vigils" is a quirky dark comedy that follows the story of a woman whose husband dies in a fire and has his soul trapped in a box as it is trying to make its way to heaven. McGreevy said the play was originally done with a high value set production, but his adaptation features just a bed sheet, a picture frame and some lights.
McGreevy considers himself a "director of theater for farmers," and he follows that motto each day.
"It's a reminder to myself that you don't need money or overly intellectual subject matter to make theater," McGreevy said. "Like my dad, all you need is a strong voice, a simple story and love for your audience."
"Vigils" includes some adult subject matter that may not be suitable for children.
If You Go What: "Vigils" When: 7:30 p.m. today and Friday Where: Prichard Art Gallery, 414 S. Main St., Moscow