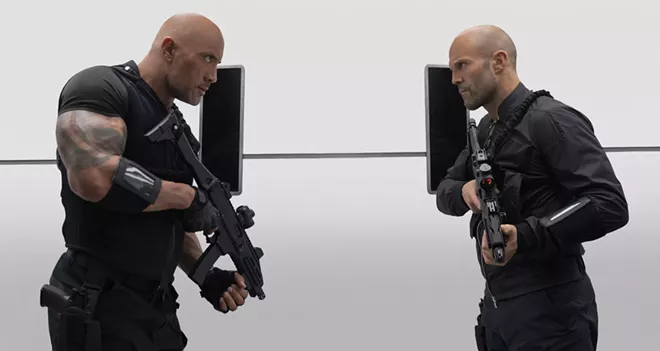 MOVIE REVIEW
Three out of four
By Kaylee Brewster
"Fast and Furious Presents: Hobbs and Shaw" is nothing short of a ridiculous, nonsensical summer blockbuster action film.
And boy, is it fun.
Somehow, the plot works despite the fact it rarely obeys the laws of science and careens from one international location to another with little to tie the story together. For it to work you must follow some basic rules:
Rule 1: Don't think about it too hard.
Rule 2: Believe in the world the movie presents to you.
Rule 3: Sit back, relax and enjoy the ride.
Keeping those in mind, the story is easy to follow. When Hobbs (Dwayne Johnson) gets a call about a stolen virus that could start an apocalypse, he's all in on the case. Shaw (Jason Statham) gets the same call. Neither know of the other's involvement and when they find out they're supposed to be working together these enemies from previous "Fast and the Furious" films could kill each other.
They soon discover that Hattie (Vanessa Kirby) has the virus. She also happens to be Shaw's sister. Hobbs wants to save the world. Shaw wants to save his sister. In order to do both, they need to put aside their hatred for each other to work together. Our baddie, Brixton (Idris Elba), is a cyber-genetically enhanced human (remember rules one and two). All Hobbs and Shaw must do is keep Hattie alive, keep the virus from Brixton and not kill each other in the process. Piece of cake right?
"Hobbs and Shaw" diverges a little from the usual "Fast and the Furious" formula. This time around, the heroes rely more on their fists to save the day than speedy cars. Although, when chase scenes do occur, they are over-the-top on special effects, so it looks pretty dang sweet.
The fights scenes are also action eye candy. Hobbs, being the mountain of manliness he is, works like a tank: He goes in and mows down anyone in his way with three punches or less. Shaw has more style: He throws kicks and punches and uses his opponents' weapons against them in speedy, sly fashion. Hattie gets her kicks in too, almost gymnastic-like movements and chokeholds, proving she can hold her own.
When it comes to action, "Hobbs and Shaw" delivers, but also gives the audience something else: Humor. Johnson and Statham's onscreen chemistry is unbeatable. They tease each other, play pranks and insult each other. The scenes sometimes run a bit long, but the audience keeps laughing throughout so it doesn't matter.
So, sure, the plot of the world-ending virus and superhuman baddie is extremely far-fetched, although Elba's performance is solid. When characters do chase each other in cars, mostly trucks in this case, vehicles do things that are not physically possible. Despite all the elements in "Hobbs and Shaw" that should sink the movie, using movie magic it manages to entertain. By the time the credits start rolling (with extra scenes, so be sure to sit through to the end), and as long as you follow the rules, you get the perfect action-packed, comedic, summer blockbuster movie blast.
https://www.youtube.com/watch?v=HZ7PAyCDwEg&t=19s