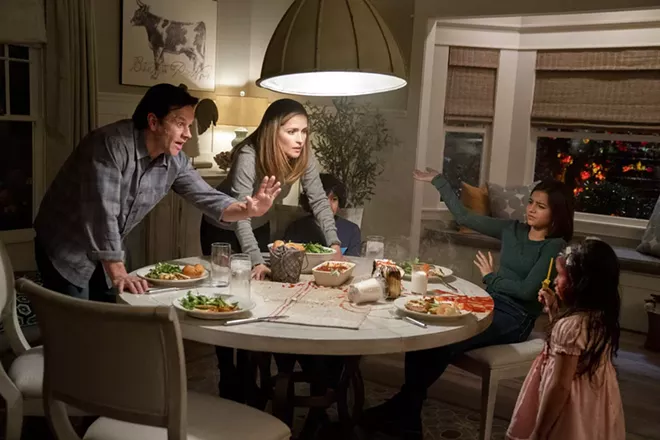 Movie review
By Kaylee Brewster
Three out of four
"Instant Family" is a feel-good, family comedy that gives an honest look at foster care and adoption.
Pete (Mark Wahlberg) and Ellie (Rose Byrne) are a regular couple who spend most of their time and money flipping houses. They love their life and their two-person family, plus a dog, but they soon start thinking about adding to their numbers.
Rather than having a child, Pete and Ellie decide to give a home to a child who needs one and go through foster care training. This whole process in the film takes about 15 minutes. It shows just enough so audiences know what they are "trained" for. When things start happening that weren't in the training, Pete and Ellie's confusion and exhaustion are understandable.
They go to an adoption fair to meet kids and there is a group of teens off in the corner. Pete decides to go say hi, while Ellie says that teens are "scary," so it'd be best to stay away. Overhearing their conversation is Lizzie (Isabela Moner), who tells off Pete and Ellie saying, "go play with the kiddies."
Pete and Ellie are impressed. Throughout the film the audience, too, is impressed with Moner. Lizzie is guarded person; she doesn't let Pete and Ellie in. She acts out and challenges her foster parents at every turn. She rarely shows her vulnerable side, but when she does, she hits the audience right in the feels.
However, when Pete and Ellie ask about Lizzie, she comes with two siblings, Lita (Julianna Gamiz) and Juan (Gustavo Quiroz). Lita is just as strong-willed as her older sister. If she doesn't get what she wants, she throws a huge tantrum.
Juan causes trouble, without meaning to, by knocking things over or getting stuck on fences. He's sensitive about it, so he apologizes profusely with plenty of tears thinking something that was just an accident is his fault.
At the center of this storm of kid-rearing is Pete and Ellie. Instead of showing only the wins of their attempts to foster the kids — helping fix broken toys, letting Lizzie channel her anger into something constructive, and other tender moments — it shows the heartaches and headaches as well. It shows Pete and Ellie's frustration when Lita won't eat anything other than potato chips, Lizzie's angry outbursts and Juan's many messes that have to be cleaned up. Pete and Ellie's relationship with Lizzie is a central focus, as they try to show her love and she constantly rejects their acceptance.
Except for a few moments exaggerated for comedic effect, "Instant Family" is a film about the reality of the struggles and triumphs of foster care. It carefully walks the line of being funny and upbeat, while not shying away from the not-so-appealing aspects. It's a reality many real foster parents face, including our characters who question why they ever decided to do it.
Pete remarks in the film that they can't be foster parents because they're not "special." However, "Instant Family" shows that you don't have to be perfect parents or have perfect kids. You just have to love the kids that you have, even if they don't love you back. When that lesson hits home for Pete and Ellie, the water works start and there's not a dry eye in the room.
https://www.youtube.com/watch?v=IUfZq3DUd3Y