by Elizabeth Rudd For Inland360.com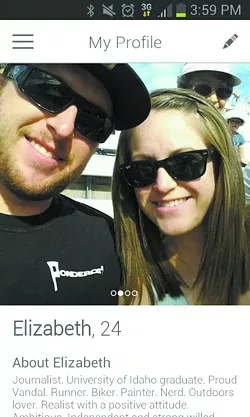 Disclaimer — I'm not single.
But if I were, I wouldn't use Tinder.
Tinder is a dating app that until about a month ago, I had no idea existed. I'm confident this makes me the worst 20-something out there, and I have to admit, it made me feel pretty out of touch with my own generation.
My roommate, who is a college student at the University of Idaho, and her friends were talking about Tinder at our place one night and I felt completely lost in their conversation. I finally asked what the heck they were talking about — clearly, it wasn't a fire starter — and my mind was blown. They looked at me like I was about 20 years older than them. Cool.
But my roommate came to the rescue, telling them I was "in a very committed relationship." That's true. I am and love every minute of it. But I was not stoked to learn I was out of the loop on what is apparently such a big thing for people my age, so I decided to get Tinder and see what it was actually like.
I stand by my first impression of when they were talking about it — super creepy and kinda shallow. That didn't stop me from diving in, or from dragging my boyfriend with me. Poor guy.
Tinder needs Facebook to generate a profile based on your four most recent profile pictures — two of mine happen to be with my boyfriend — and the "About Me" section. It also syncs your Facebook-defined interests and friends to show just how much you and another Tinder user have in common.
Then you have to define who you want to meet using Tinder. The app allows you to decide how old, how close and what gender of a person you want to possibly date.
I wanted to keep my profile and search as realistic as possible — like I was actually looking for someone to date. I gave myself a 20-mile radius for men between the ages of 25 and 30, and then the real fun began.
For such a simple app, I had some serious troubles figuring out how it worked. The home screen only allows you to view one person's profile at a time and unless you click to look further, that's just one picture of them. If you don't like how they look based on that one picture, you can reject or approve them.
This is where I got in trouble.
I wasn't looking to "Like" anyone, but I did. Do not try to swipe — stick to the "X" or the heart. Apparently, if you swipe your thumb to the right you will like the person. Learned that one the hard way. What makes it worse is I knew of him and am friends with people who are friends with him ...
Hello, Awkward; I'm Elizabeth.
Naturally, I freaked out.
The first thing I did was Google how to unlike someone on Tinder. I was reassured to know I wasn't the only one to encounter this moment of terror because it was the first suggested predictor search that Google gave me. Thanks, for nothing, that is. Despite my desperate attempt to find a different answer, each link I clicked left me with the impression that the only way I could get out of it was if the guy gave me an "X."
That was not the case. He gave me a heart and tried to chat with me.
Chatting is the only way to actually interact with another human on Tinder, but even that isn't a personal interaction. Very strange, if you ask me.
As I flipped through the various guys — with more caution than before — who met my simplified requirements, I couldn't help but start to feel really weird and uncomfortable with the whole concept.
Tinder tells you within miles how close someone is to you and you don't even have to be matched with them. It's like a Christmas present for stalkers. No longer do you have to rely on the somewhat private Facebook, you can just get on Tinder and walk down the block until you find a face that matches the picture. Not cool.
Not only that, I realized I started being pretty superficial and judgmental of the guys who came up around me. Some of it was based on appearance, but I tried to also click on quite a few profiles and was unimpressed.
It became clear that there were some people who were genuinely using it as a way to meet people — they had nice pictures, normal descriptions and if they had several of my mutual friends who I knew well, it was even a little less worrisome.
But then there were the guys who were obviously only there to "hook up" with descriptions like, "Looking for a great time and known to give one…" Seriously? That's what you're putting out there?
Oh boy.
But what do I know? I'm biased and no longer in the dating scene, so maybe Tinder is the new way of starting a flame.
Rudd may be contacted at erudd@lmtribune.com.