The University of Idaho beef center has more than 50 purebred cows, but just down the street, Idaho Repertory Theatre's cow can sing.
IRT will present the musical "Jack and the Beanstalk" with life-size puppets on the Hartung Theatre outdoor stage June 27 through July 12. The musical will follow Jack, who uses his power of imagination to escape Depression-era farm life.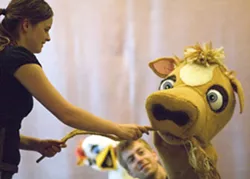 In addition to the head and neck of a cow, which is voiced and manned by actors throughout the show, costumer designer Ann Hoste also created a hen.
"The hen is a portable puppet that can be carried around by an actor holding it," said director, Zac Curtis.
Puppets are new to the six-member cast, as was the outdoor stage design for scene designer William Tedrow.
"You have to consider the weather," Tedrow said. "The wind could come up and knock down my walls. Rain could ruin the paint."
And costumed actors could melt in 90 degree weather, said Tedrow who created a cartoon world for the musical.
"It's a place where Jack can find everything in his imagination for the story to progress," Tedrow said. "If you're a kid in a barn you can find anything to have fun."
Curtis said voice projection is a challenge in the elements.
"There's so much more area to fill," Curtis said. "Your voice doesn't bounce off of anything, but then also the audience is farther away, so they're not going to see all of the emotions on your face."
Other play highlights include a beanstalk that is rigged to magically grow, which Tedrow created out of hemp rope and fishing line for crew members to yank backstage. And then there are multiple breaks in reality. Sometimes, the beanstalk is an actor.
"There are moments, such as asides and references, where actors will look at the audience and make a comment and break reality to say, 'We realize this a play,'" Curtis said.
"Jack and the Beanstalk" tickets can be purchased online at brownpapertickets.com, by phone at (208) 885-6465 or at the door. Tickets are $5 for children 12-and-under and $10 for adults. Lawn seating is available at reduced prices and families are invited to eat on the lawn before the show.
Treffry can be reached at (208) 883-4640 or ltreffry@inland360.com. Follow her on Twitter at: @LindseyTreffry.
-If you go WHAT: Idaho Repertory Theatre's musical production of "Jack and the Beanstalk" WHEN: 6:30 p.m. June 27-29, July 3 and 12; 2 p.m. June 30 WHERE: Hartung Theatre's outdoor stage, Stadium Drive off Sixth Street, Moscow COST: $5 for children 12-and-under, $10 for adults