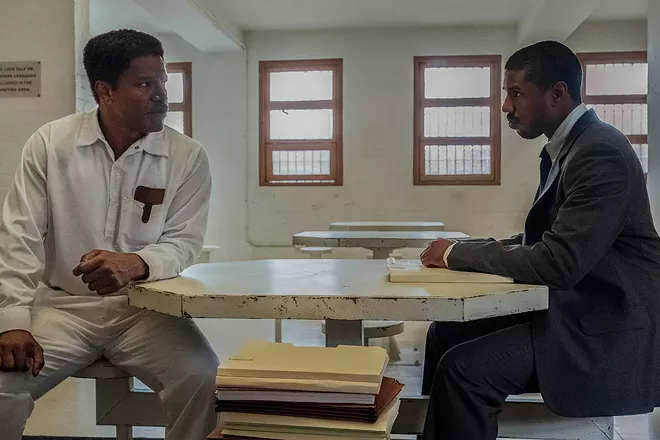 Film review
Kaylee Brewster
Three out of four.
"Just Mercy" is a heart-pounding and gut-wrenching story with powerful performances that shine a light into the darkened prison cells of our society.
Bryan Stevenson (Michael B. Jordan) has just graduated from Harvard law school. But instead of getting a cushy job near home, he decides to move south and work for nothing. He accepts a grant-funded position providing legal counsel for death-row inmates -- most of whom are black, like him.
The day he arrives, he meets his coworker Eva Ansley (Brie Larson) and they get to work in Eva's home because no one in town will provide office space. The townsfolk view the inmates as criminals, while Bryan and Eva see them as people who need their help.
Bryan gets busy on the case of Walter "Johnny D" McMillian (Jamie Foxx), who was convicted of murdering a white woman and has been sitting on death row ever since. Bryan takes on his case, and the prejudice of the South, offering something Johnny D never had before: hope.
"Just Mercy" tells a compelling story made more gripping by engaging acting, particularly by Jordan and Foxx, two black men fighting in different ways against an unfair system.
Jordan's Bryan goes to the South not knowing the full extent of what's he's getting into. As he works to assist Johnny D, he is met with resistance by the very people who are there to uphold the law: sheriffs, attorneys and judges. He grapples with racism against himself and others and witnesses the horror of the electric chair.
Bryan sees all this from outside a jail cell and continues to press forward.
Meanwhile, Johnny D is stuck on the inside, dealing with the emotions of being an unfairly imprisoned man on death row. He maintains his innocence but, other than Bryan, the people who could free him don't seem to care. He is believed to be guilty based on his race more than anything.
Both Jordan and Foxx give powerfully emotional performances. They're complemented by a stellar supporting cast member in Larson. She offers steady support and understanding for Bryan, even though, as a white woman, she can't fully understand Byran's experience with racism. Other inmates, played by Tim Blake Nelson and Rob Morgan, add to the humanity of the situation.
While some of the film's plot gets lost in legal jargon, eventually the buildup of the courtroom drama takes audiences to the edge of their seats.
"Just Mercy," though a true story, has jarring parallels to famous fictional Alabama courtroom battle. Johnny D's fight for justice unfolds in Monroeville, Ala., home of author Harper Lee and the basis of her classic novel, "To Kill a Mockingbird" -- a fact Bryan repeatedly hears as he navigates the town's judicial system. Perhaps most shocking is that "Just Mercy" doesn't take place in the upheaval of the Civil Rights era of the 1950s and '60s, but in the mid-80s to early '90s. That such an injustice could take place in our "modern" day is shocking and hard to watch, at least for viewers who haven't experienced it firsthand.
In "To Kill a Mockingbird" Atticus Finch says that, "You can never really understand a person until you consider things from his point of view … until you climb into his skin and walk around in it." Watching "Just Mercy" let's viewers do that -- and it's an unforgettable journey.
https://www.youtube.com/watch?v=GVQbeG5yW78