Long lines of couples will twirl, twist and skip as the Palouse Folklore Society will host its last two community dances of the year, starting next week with folk band Katzenjammers and ending the old year with Captain Ludd's Rant.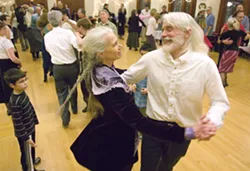 "We play mainly old-time music, as opposed to Irish style music," said Katzenjammers' Marsha Schoeffler, who also serves as PFS Publicity Director. "So, it's more tunes that come from southern Appalachia tradition."
The band will feature four fiddlers: Debby Carlson, Sue Aiken, Rachel Lyons and Marsha Schoeffler, two guitarists: Jack Lyman and Tom Schotzko, and bassist Dave Bezdicek on Dec. 21. Bill Thompson, the group's mandolin player, is on vacation.
The contra dance "caller" will be Joseph Erhard-Hudson.
"A caller makes it possible for people who've never done it before to come to the dance, to come and have a good time," Schoeffler said. "I'm really looking forward to playing for Joseph calling."
The caller gives instructions before the music plays, Schoeffler said, and then will start the band.
"He's just ahead of what the dancers are required to do," Schoeffler said. "It's very easy for the dancers, because many of the figures are repeated ... Once you are familiar with a few of the figures of the dance, it becomes pretty easy to pick it right up."
Which is good, because Schoeffler said the point of contra dance is for everyone to have a good time.
Contra dance descended from English country dance, according to the PFS, and is similar to square dancing, but done in long lines of couples. PFS dances include a few circle or square dances in a night, as well as a waltz.
For those who don't partake in dancing, Schoeffler said people can just come to listen.
The Katzenjammers, like most folk groups, play from memory.
"It gets to be like whistling," she said. "You know the tune, you get to find it on your instrument."
The Dec. 21 community dance will start with lessons at 7:30 p.m. at the 1912 Center. Dancing begins at 8 p.m. On New Years Eve, a potluck dinner will begin at 7 p.m., followed by lessons around 8:30 p.m. and dancing from 9 p.m. to midnight Admission is $6 for members, $8 for non-members and $5 for first-time dancers. More information is available at palousefolk.org.
Treffry can be contacted at (208) 883-4640 or ltreffry@inland360.com. Follow her on Twitter @LindseyTreffry.
-> if you go: WHAT: Palouse Folklore Society Contra Dance WHEN: 7:30 p.m. Dec. 21; 7 p.m. potluck, 8:30 p.m. dance on Dec. 31 WHERE: 1912 Center, 412 E Third St., Moscow. COST: $6 for members, $8 for non-members and $5 for first-time dancers, at the door.