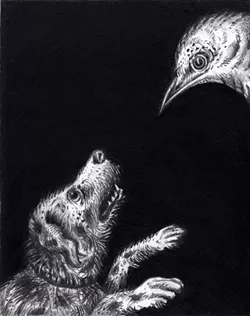 Cheryl Shurtleff, a recipient of the 2015 Idaho Commission on the Arts Fellowship, died Sept. 4 at her home in Boise after fighting a recurrence of breast cancer. She was among eight artists recently recognized by the ICA for their work in the visual arts.
Shurtleff grew up on a fruit ranch north of Payette, Idaho, earning a bachelor's and master's degrees in art education at Boise State University and a MA in contemporary art history at the University of Oregon, according to her obituary that ran Sept. 9 in the Idaho Statesman. She taught at BSU for 36 years and was one of the first women there to be named a professor.
As an artist, Shurtleff worked primarily with pencil drawings on paper, creating images with "intense simplicity: beautifully rendered images, but disturbing and mysterious ones," according to her obituary. One of these drawings once appeared in an exhibit of Idaho art at the Smithsonian American Art Museum. According to the obituary, her work is held in private and public collections, including those at the Boise and Portland art museums.
Shurtleff's work, along with that of the other recipients of the 2015 ICA Fellowship, is on display through Oct. 3 at the University of Idaho Prichard Gallery, 416 S. Main St. in Moscow. The gallery is open 10 a.m.-8 p.m. Tuesdays through Saturdays and 10 a.m.-6 p.m. Sundays.
The additional fellowship recipients are: J. Casey Doyle, Moscow; Megan Murphy, Hailey; Stephanie Wilde, Boise; and Wendel Wirth, Moscow. Honorable mentions are Dennis DeHart, Moscow; Rudy Kovacs, Pocatello; and Anika Smulovitz, Boise.