Most spelling bees are serious and intense -- but "The 25th Annual Putnam County Spelling Bee" isn't your average spelling bee. The Lewiston Civic Theatre opens the humorous musical Friday at the Silverthorne Theatre in Lewiston.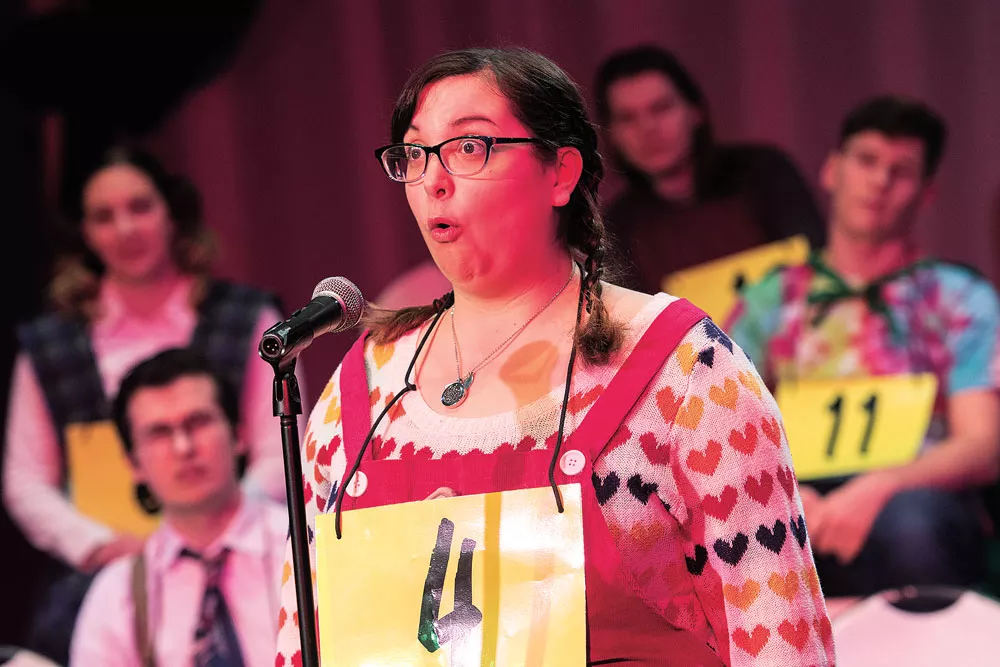 Directed by Kathy Witt, the show follows six adolescents vying for a county spelling bee championship title. Rona Peretti (Nancy McIntosh, of Lewiston) -- bee moderator, former champion and No. 1 realtor -- opens the bee, which is judged by Vice Principal Douglas Panch (Paul Segren, of Lewiston). As the teens spell their way through the show, they reveal humorous and touching stories about their lives. As spellers are eliminated, Mitch Mahoney (Micheal Keene, of Lewiston), the Official Comfort Counselor hands them a juice box. Adolescents are played by Gabi Garcia, Megan Grubb, Alex Everett, and Derek Renzelman, all of Lewiston; and Ethan Sparkman and Brittney Spencer, of Clarkston, The show is rated PG-13 due to mature humor.
Each performance also includes four audience members who join the cast on stage to participate. The roles are pre-arranged each night, so no one in the audience need worry about ending up on stage unexpectedly.
"It's a funny, quirky show," Witt said. "But there's places where it touches your heart."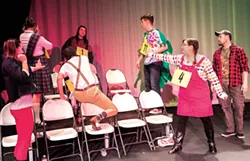 IF YOU GO:
WHAT: "The 25th Annual Putnam County Spelling Bee"
WHEN: 7:30 p.m. Friday and Saturday, Jan. 11-13 and 18-20
2 p.m. Sunday, Jan. 14 and 21
WHERE: Lewis-Clark State College Silverthorne Theatre, 500 8th Ave., Lewiston
COST: $19 adult, $16 veterans and seniors age 60 and up, $14 students, $11 children 12 and under; tickets at the door or in advance online at www.lctheatre.org or by calling (208) 746-3401
OF NOTE: People are asked to bring a non-perishable item to donate to the LCSC Warrior Food Pantry.
Winning words
See if you can guess the correct definition of the words that have won the Scripps National Spelling Bee from the past ten years.
guerdon

a) reward, recompense

b) the segment of troops in a Roman army that would bring up the rear

Laodicean

a) lukewarm or indifferent, especially in religion or politics

b) of or pertaining to the Southeast Asian island of Laodicea

stromuhr

a) an upper atmospheric condition created when warm, westerly winds encounter an opposing front

b) an instrument for measuring the amount and speed of blood that flows through a blood vessel

cymotrichous

a) having wavy hair

b) an insect characterized by a three-part wing structure

guetapens

a) a farmer in the feudal system that raised pigs

b) ambush, snare or trap

knaidel

a) a type of fastener used to affix sheets of metal

b) matzo ball

feuilleton

a) an ancient weapon of war that swung knives or swords in a circular motion

b)

a part of a European newspaper or magazine devoted to material designed to entertain the general reader

nunatak

a)

a hill or mountain completely surrounded by glacial ice

b) an article of clothing used by the Inuit to cover the neck

gesellschaft

a)

social relations based on impersonal ties, as duty to a society or organization

b) the cylindrical unit that holds the lens in a telescopic camera

marocain

a) an East African food made from soaking yucca root

b)

a ribbed crepe fabric used in women's clothing
ANSWERS: 1. a), 2. a), 3. b), 4. a), 5. b), 6. b), 7. b), 8. a), 9. a) 10. b)