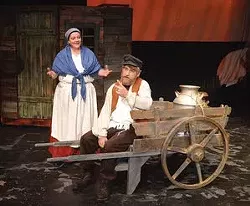 Holding tight to his Jewish traditions in early 1900s Russia, a dairyman named Tevye seeks mates for three of his strong-willed daughters. Anti-Jewish sentiment is rising, traditional customs are fading and the girls insist on marrying for love.
The musical "Fiddler on the Roof" defied critics' expectations when it was released in 1964, becoming for a time the longest running show on Broadway. In 2007, Time Magazine ranked it the seventh most frequently produced musical in American high schools.
Opening tonight (more info below) at the Lewiston Civic Theatre, the show is directed by Fred Scheibe, who says the musical has staying power because of its messages about people losing their traditions, the modernization of the family and the prejudice of the Russians against the Jews.
"There's just a lot of moral to the story and yet it's told in such a way there's lots of comedy in the show. It should leave people crying and laughing. It's just a very well-written musical," says Scheibe, who has directed the show six times over his career.
Actor profile: Joshua Vander Plaats as Tevye
Joshua Vander Plaats, 30, of Moscow, stars as Tevye, the narrator and main character of "Fiddler on the Roof." Tevye is a struggling dairyman, father of five daughters and a leader in his Jewish community. Originally from Sioux City, Iowa, Vander Plaats is studying vocal performance at the University of Idaho and found the Lewiston Civic Theatre through a friend who performed in last season's production of "Legally Blonde." Because of a back injury Vander Plaats will perform on crutches.
Why audition for "Fiddler on the Roof?"
"I'm a bass, which is an unusual voice type, especially for musical theater. Tevye is one of the only principal musical roles I could get in musical theater."
What have you learned in studying for this role?
"Because of my voice type I'm specifically studying opera. On stage, character portrayal is a lot different from opera. I would like to take what I learn in musical theater and apply it to opera. I feel there shouldn't be that deficit of acting capability in the opera world."
What's participating in a community theater been like?
"It has been more fun than I can describe. The people in community theater, they are not paid to be there. They have to have a real passion and real love for it. I think that really shows with the people of Lewiston."
What: "Fiddler on the Roof" When: Sept. 19-Oct. 6 House opens at 7 p.m., show at 7:30 tonight, Friday, Saturday and Sept. 26-28, Oct. 3-5 House opens at 1:30 p.m., show at 2 p.m. Sunday and Sept. 29, Oct. 6 Where: Lewiston Civic Theatre, 805 Sixth Ave., Lewiston How Much: $16 general admission, $13 seniors, $11 student with ID, $8 children 12 and younger Of Note: Thursdays are Family Night with $10 tickets. Tickets are available at lctheatre.org or by calling (208) 746-3401.