By JENNIFER K. BAUER Jkbauer@inland360.com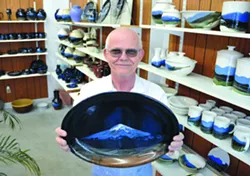 LEWISTON — When Mount St. Helens erupted 35 years ago this month, it spread a blanket of ash as far east as Billings, Mont., 725 miles away.
In the Lewiston-Clarkston Valley and on the Palouse the sky turned as black as night and ash was ankle deep in some areas. While people donned protective face masks and farmers fretted that the year's harvest would be killed, Michael Wendt was pondering art.
The Lewiston potter had studied volcanic ash glazes in the University of Idaho pottery program and saw an opportunity. A week after the eruption he fired his first load glazed with the ash.
"I saw how pretty it was," said Wendt, who then placed a newspaper ad offering 5 cents a pound for delivered ash. People answered from as far away as Spokane looking to make a profit on something they were just throwing away, he said. WSU gave him 8,000 pounds.
Wendt's pottery features impressionistic versions of local landscapes like Moscow Mountain and Hells Canyon. For his Mount St. Helens scene he created its Mount Fuji-like, pre-eruption peak. Almost every potter in the Northwest used ash from Mount St. Helens, Wendt said, but most fired it in a heavy reduction, resulting in a dark brown color. He oxidized the ash for a midnight-black result with layered brown undertones. Customers liked the look of the final product and he could barely keep up with the demand for Mount St. Helens souvenirs. Requests came from around the world. His success helped him build a studio, Wendt Pottery, in 1981 and by 1985 he had eight full-time staffers.
"I could hardly keep up," said Wendt, who estimates that for the first decade, half of all the work he sold was Mount St. Helens pottery.
Now, 35 years later, the eruption has faded into time and he guesses it is maybe 10 percent of his business.
He estimates he has 10,000 pounds of ash left.
"By my reckoning that will last me 300 years. As you know the rule, you can't die until you use it all."