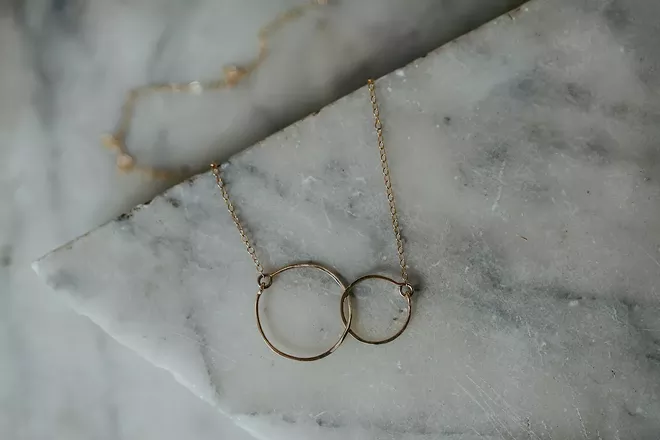 By JILL WILSON
for Inland 360
Nara Woodland's vision is to create beautiful jewelry which is comfortable and accessible while respecting the environment and her community. Every detail is accounted for, from how she sources her materials, to the mood she's in when crafting her pieces.
"Looking out for those individuals or businesses with good intentions is really important because I believe it's an individual's responsibility to have less impact on the earth. That starts with the materials that I am sourcing to create my work.The metal that I buy is sustainably created in the U.S., and I buy raw spools of metal and shape it using hand tools. Everything is done by hand," said Woodland, of Moscow.
To Woodland, attention to detail is a lifestyle.The gemstones she uses come from Moscow retailer Gem State which sits across the street from Bloom, the café she owns with her husband. Inside the café, visitors will find sustainably farmed organic coffee, fresh local ingredients, and art by regional artists on the walls. On the day of our interview, the featured art was by students of Moscow Middle School.
Woodland comes from a family of artists. Her father is an expert bookmaker, and her mother makes a variety of goods, including baskets and children's coats.
"That's a really important part of my character and my upbringing," Woodland said. "Both my parents, being self-employed craftspeople, when they wanted something, they made it. That really instilled in me the idea that I could do the same thing. It has informed all aspects of my life."
After receiving her bachelor of fine arts degree from the University of Idaho in 2005, Woodland spent 12 years at the Prichard Art Gallery as the assistant director and buyer for the gallery's gift shop.
"When I was working at the Prichard Art Gallery, I was surrounded by art but I wasn't making anything. It left kind of a void. It's a really important thing for me to be satisfied and well balanced, to have something that is creative and that lends itself to that alone time. And I had young kids, so I wanted something that would allow me to be creative that wouldn't take me away from my other obligations. So I started making jewelry."
Woodland is inspired by simple forms around her, like a sidewalk line or the flight pattern of a bird. She is also motivated to create jewelry that is comfortable and affordable.
"I have to touch what I'm wearing to remember what I'm wearing because its not big or clunky or impeding anything. It's also really important to have high quality that is also accessible, so, none of my pieces have diamonds or any of those higher-grade gems or stones."
At the end of the day, Woodland wants people to feel special.
"It's wearable art. It's a way for people to feel more beautiful and I love making people happy."
People can find Woodland's work:




Makers Market from 9 a.m. to 4 p.m. Nov. 30 at Spinal Rock Vineyard, 25844 Old Spiral Hwy No. 5893, Lewiston.




Winter Market from 10 a.m. to 2 p.m. Dec. 7 at the 1912 Center, 412 E. Third St., Moscow.




On

etsy.com

at PaperBirdStudioShop


Time to get festive! This holiday season Inland 360 is doing a series of stories about area artisans who handcraft and sell work.