Pullman Civic Theatre's "M*A*S*H" has a veteran cast, both of the performing arts and the military. Sally Sprafka, 72, has been acting for 50 years. "M*A*S*H" director Penny Gonzales has been a part of plays her entire life. Randy Cross, acting in his third-ever play, is retired from the Army — having visited Korea, where "M*A*S*H" takes place.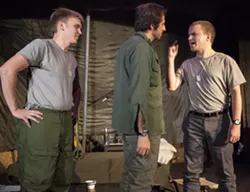 "'M*A*S*H' is more iconic," said Cross, who plays Colonel Henry Blake. "The series went on longer than the actual war."
PCT's "M*A*S*H" is closer to the adaptation of the same-named film or book than the 11-year-long TV series. All four mediums, though, center around the United States Mobile Army Surgical Hospital during the three-year Korean War.
While Cross visited Korea 43 years after the war's end, he said his experience as an army broadcaster has helped the cast with details.
"I know some of the pronunciations," said Cross, who is familiar with Korean cities and names. "And if you hear 'Attention' over the loudspeaker, this is how you'd react."
Sprafka, who plays Margaret "Hot Lips" Houlihan, lived in a French NATO base and even dated a military police officer.
"So I kind of knew what to expect for the role," Sprafka said. "I'm not a fan of the military, but I'm a real fan of 'M*A*S*H,' because they're loosey goosey and they're real humans and they're doing a good job, even if they're in the Army."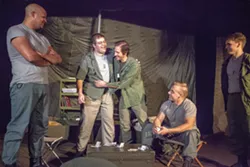 This is the first acting role for Adam Goler, who plays Hawkeye. A doctor's son, Goler said this play is the closest to an operating table he'll ever get.
The play switches between the nurses' tent, swamp tent and mess hall, and Goler said he has not only learned how to switch scenes amongst a crowded 25-member cast, but he has had to learn how to switch between emotions.
"And figuring out what your character would do versus what you would do," said Goler, who has an easier time clowning around than being serious.
Gonzales said PCT's comedic play is less dark than other "M*A*S*H" counterparts.
"I'm a little bit sorry about that, because my philosophy of what I know of the world is comedy comes from pain," Gonzales said. "There's only one scene that shows the reality of war. They were doing meatball surgery of men who were wounded ... so a lot of it seemed pretty senseless."
PCT debuted the show last Friday, and shows continue today through Sunday.
Treffry can be contacted at (208) 883-4640 or ltreffry@inland360.com. Follow her on Twitter at: @LindseyTreffry.
->if you go: WHAT: Pullman Civic Theatre's "M*A*S*H" WHEN: 7:30 p.m. today through Saturday, 2 p.m. Sunday WHERE: Pullman Civic Theatre, 1220 NW Nye St., Pullman COST: Tickets can be purchased online or at Neill's Flowers and Gifts, Wild Ivy, and Dissmore's for $12 ($10 for matinees). Tickets can be purchased at the door for $15 ($12 for matinees).