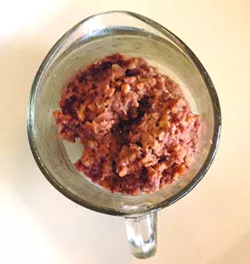 Recently it seems Pinterest met the 1980s and a trend was born: microwavable meals in a mug.
Desserts are in on it too — ice cream heaped on top with gooey sauces spilling out as if someone forgot the difficulty of grasping a mug covered in caramel sauce.
For the seasoned gourmet, such a notion might lack in appeal, but for those with limited ingredients, time, money and tools — college students for example — these micro-mugs become a viable meal option. But as one might suspect, not everything that comes out of the microwave is worth putting in your mouth. We at Inland360 sifted through dozens of recipes and tested seven of them against our refined taste buds. Here's what we found:
Meatloaf in a Mug
Edibility: 5/5 (downgrade to 0/5 for those who don't like meatloaf)
Practicality: 5/5
True, meatloaf has enough image problems without throwing it in the microwave for more. But if you can get over the shame of being someone who not only likes meatloaf, but microwaves it too, this idea is a winner. It was among the easiest micro-mugs to prepare and tasted like the real thing. Paired with, say, a microwaved baked potato, you've got a legitimate meal going on. Find the recipe at: http://www.tasteofhome.com/recipes/meat-loaf-in-a-mug
Quotes of note:
"It tastes like meatloaf."
"I've never had meatloaf." / "Are you American?"
Sausage and Cheese Spaghetti
Edibility: 5/5
Practicality: 3/5
If you think cooking your pasta in the microwave sounds odd, you'd be right: It's a long, messy ordeal resulting in subpar pasta. But is it possible? Yes. So if all you have is a microwave, this fancy take on mac and cheese is within your reach. Do most people who only have a microwave also have fontina and fresh springs of thyme on hand? Eh, probably not. But if they did, they would not be disappointed. Find the recipe at: http://ladyandpups.com/2013/10/07/pre-departure-microwave-madness-eng/
Quotes of note:
Silence with intermittent "mmms."
"What kind of cheese is in this? Romano? More like Roma-YES!"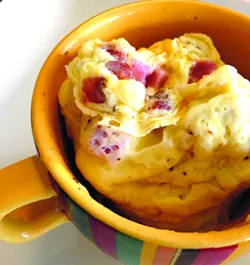 Omelette In a Mug
Edibility: 4/5
Practicality: 5/5
Thought omelets had to be made in a pan? They do. But if you mix up the same ingredients in a mug, you can have an omelet-like experience without turning on a burner. Yes, eggs come out of the microwave a bit rubbery, but with such a protein punch, this one could be served for breakfast or dinner. Get the recipe at: http://www.justputzing.com/2013/01/omelette-in-a-mug.html
Quotes of note:
"It has a weirdish texture."
"It tastes good, though."
Two-minute French Toast in a Cup
Edibility: 4/5
Practicality: 5/5
French toast is a breakfast favorite, but with the work involved, it's often relegated to a weekend treat. This microwave version makes it an everyday possibility. So if that's your dream, you can find the recipe at: http://www.prettyprudent.com/2012/01/entertaining-food/2-minute-french-toast-in-a-cup/
Quotes of note:
"It tastes like a warm cinnamon bagel."
"Mmm. It tastes good."
Banana Bread in a Mug
Edibility: 2/5
Practicality: 4/5
The thing about banana bread is that it gives you something to do with your brown bananas; make it mug size and you only need one. Chances are, though, the texture of this one will have you wishing you'd downed the banana alone, brown or not. Get the recipe at: http://passthesushi.com/banana-bread-in-a-mug/
Quotes of note:
"It's rubbery. But the taste is good."
"It's gummy. A baby would like this." / "Yeah, and a baby monkey would love it."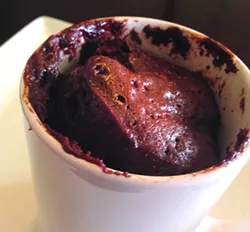 Nutella Mug Cake
Edibility: 5/5
Practicality: 3/5
When it comes to chocolate, mugs and microwaves, piles of ice cream/whipped cream/fudge sauce/sprinkles can cover a multitude of culinary sins. But if you get a good recipe, that's not necessary. Sure, this one takes a few extra steps and ingredients, but toppings aren't required in order to classify it as edible. Get the recipe at: http://livelovepasta.com/2011/05/nutella-mug-cake/
Quotes of note:
"It tastes like real cake. It doesn't have that rubbery texture."
"It's my favorite."
Pumpkin Mug Pie
Edibility: 4/5
Practicality: 4/5
Sure, this pie lacks a crust and the custardy goodness of a traditional pumpkin pie, but it'll get you in the general vicinity in five minutes — which is hardly something your grandma could say of her pumpkin pie. Get the recipe at: http://www.yammiesnoshery.com/2013/10/pumpkin-mug-pie-with-toffee-and-caramel.html
Quotes of note:
"This is for the person who gets stuck at the dorm over Thanksgiving break."
"Did the Pilgrims eat this?"/"Yeah, it's an old Native American recipe."
"It tastes more like a vegetable than a dessert."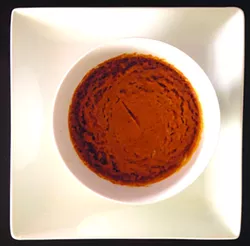 Is it worth it?
That's a matter of opinion, of course. For the non-microwave dependent, here are some points to consider:
1. You still have to have all the recipe ingredients and measure them out. Especially for desserts and baked goods, there's no time savings in dealing with smaller amounts.
2. You still have to clean up the ingredients and measuring tools, not to mention your mug. And if you didn't know how hard it was to remove microwaved egg from a ceramic surface before you try these recipes, you certainly will after.
3. Single servings are convenient, but don't forget the value of sharing. It takes the same time to mix up a mug of brownie as it does a pan — and a pan of brownies has the potential to make you a few friends.
4. Easy, fast-food isn't just for college students. Micro-mugs can be a convenient meal option for kids on up to older adults.