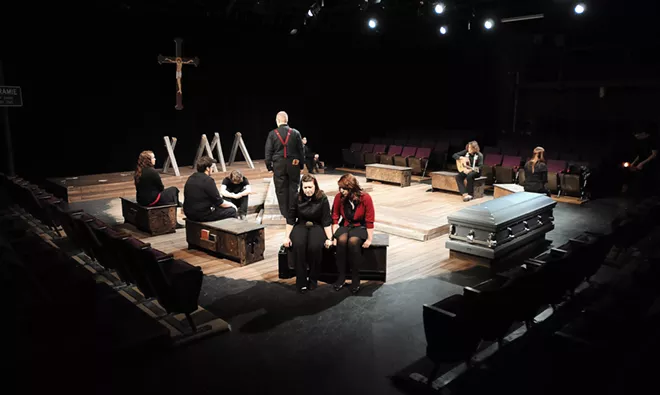 Obituary: WSU Performing Arts, age 7, Pullman
The performing arts died April 19, 2018 at Washington State University, suffocated by a $30 million budget deficit and impassive administrators.
Only 7 years old, WSU Performing Arts was the brainchild of the late President Elson S. Floyd, who created the program to ensure dramatic arts would remain part of campus life in rural eastern Washington after the university closed its theater department. Four employees under its umbrella worked with student-run theater groups, brought diverse performers from around the world to campus, and managed WSU's stages in Daggy Hall: the 400-seat Jones Theatre and the black box Wadleigh Theatre.
WSU Performing Arts did not go gently into the good night.
Last fall WSU announced it was killing the program because it wasn't financially viable and was a drain on university reserves. Director of WSU Performing Arts Gail Siegel told the press the program was actually self-sustaining, except for salaries and benefits, which they were never told they had to pay for.
WSU's decision sent shockwaves to the West Coast. Seattle's alternative weekly newspaper the Stranger screamed across the state with a story headlined, "Fuck Washington State University For Choosing Football Over Academics." The article pointed out that the program's $1.6 million cost spread over seven years was nothing compared to WSU's investment in football, which made head coach Mike Leach the highest paid state employee in Washington with an annual salary of $3,016,700, not to mention a new $61 million building with a cafeteria staffed with two full-time chefs and a mini-barbershop in the locker room.
More than 13,000 people visited the theaters through rental events and season shows in the 2016-17 school year. "The Triplets of Belleville Cine-Concert," was the final show offered by WSU Performing Arts. The last performance was April 19 in Jones Theatre. It sold out.
The program's demise leaves WSU in an odd position as a major land-grant institution with no academically supported theater programs at all.
"It's so strange to everyone," said Mary Trotter, an associate clinical professor whose job was eliminated. "I've not yet been given any explanation or heard anything that helps it make sense. … Mostly they don't respond to anyone," she said of administrators.
As far as she and the other outgoing staff and faculty know, the stages are going dark.
"What we've been told is that both Jones and Wadleigh will be shut and they will remain intact, which means they won't be dismantled, until a future use can be determined; which means that, clearly, a future use was never thought about," she said.
WSU Performing Arts leaves behind the student theater groups STAGE and the improv comedy troupe Nuthouse, who will no longer have professional theater advisers nor the use of the university's stages. It also leaves behind numerous campus and community groups who used the stages.
In the great hereafter, WSU Performing Arts is reunited with other publicly funded theater programs done in by budget cuts: Washington State University Summer Palace (2002), the Lewis-Clark State College Theater Arts Program (2003), the Washington State University Department of Theatre and Dance (2011) and the University of Idaho Repertory Theatre (2016).
People are welcome to pay their final respects at the free "A Farewell to WSU Performing Arts at Daggy Hall" concert taking place at 7:30 p.m. Saturday at Jones Theatre. "Inland Folk" radio host Dan Maher and other performers will play and Birch & Barley will provide hors d'oeuvres and a cash beer and wine bar.
Trotter has accepted a position as a theater professor in Missouri. In lieu of flowers or cards she asked that "people stay aware of what's happening in Daggy Hall" after she's gone.
IF YOU GO
WHAT: "A Farewell to WSU Performing Arts at Daggy Hall" concert with Dan Maher
WHEN: 7:30 p.m. Saturday, April 28
WHERE: Jones Theatre, Daggy Hall, Washington State University, Pullman
COST: Free