Intaglio print etchings require days of preparation with no room for error. To bring the project through to completion, the artist must be precise and patient.
Clarkston artist Barbara Coppock is both. Her work is on exhibit in Dayton through March 9.
Coppock has made a living for herself for nearly 25 years creating and selling her print etchings. It's the result of a lifetime of interest and dedication.
"I've been making art since I could walk," she said. "I always got in trouble at school for doodling."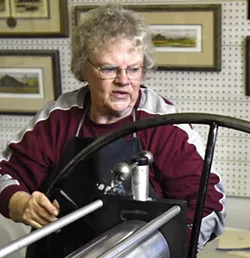 She and her late husband, Bill, raised their family in Montana, where she would buck bales and tend the orchard by day and work on art by night while everyone was in bed. After the kids were out of the house, she bought a small press, intending to make her hobby a profession. Then she got a call that her husband was in a car accident. He was left paralyzed from the waist down.
When the two were able to return home, Coppock pulled out her press and started using it. When her husband asked what she was doing and she replied, "I'm going to make a living for us on it." He laughed and told her the only way that'd happen is if she was going to use it to print money.
But she never had to. She started making and selling prints, and he started building frames to put them in. The two sold her work in galleries across the Northwest.
She created her first print in 1985 and continued through 2008, when she took a 7-year hiatus to care for her husband from his kidney failure until his death. During that time, she found herself making jewelry because "I can't not make stuff," she said.
Coppock learned to making intaglio prints through books she would check out as a child about the European master printmakers. She learned about the process and copied it, never bothering to find out what modern print etching artists do today. She has no idea what one would even say about her process.
"Nobody does that anymore, that's how they used to do it in Europe," Coppock said.
With a bent toward architecture, Coppock favors renderings of historic buildings and landmarks, along with work related to the journey of Lewis and Clark. She created an intricate map of their journey and depictions of the botanical findings Clark included in his journal. She even recreates his handwriting in her work.
"It was a perfect fit to do that subject in that medium," she said.
So even though Western art declined in popularity during the 1990s, she said, "I had something no one else was doing, so I rode that home."
Coppock started creating prints again two years ago. She works out of her Clarkston studio.
IF YOU GO
WHAT: Etchings of Barbara Coppock
WHEN: 9 a.m. to 6 p.m. Monday through Saturday, through March 9
WHERE: Wenaha Gallery, 219 E. Main St., Dayton, Wash.
COST: Free
How Coppock creates an intaglio print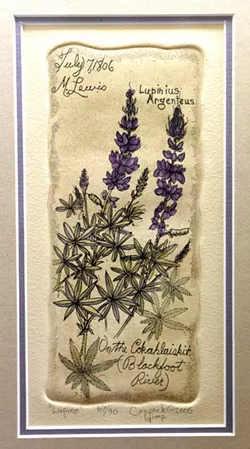 Preparing the etching plate
Coppock begins with a zinc plate, cut to the size of her etchings, and covered with a thin layer of asphaltum, a mixture of beeswax and asphalt. Zinc is economic but because it's a softer metal, she can get no more than 90 prints out of each plate before the lines begin to lose their crisp edges.
Creating images -- backwards
Using a sharp scribe, Coppock draws on the treated side of the plate. It doesn't take much pressure to make a mark -- the wax and asphalt easily give way to the zinc underneath. Every mark she makes will be part of the final image; there's no erasing when creating an etching. To make matters even more complicated, Coppock must create a mirror image, as the plate will print the reverse of what she draws. She's been doing it that way so long, she said, that she now has a hard time drawing directly.
Acid work
When the image is complete, Coppock submerges the plate in nitric acid. The acid bites down where the beeswax-asphalt layer has been scraped off, revealing the zinc below. When the process is complete, the beeswax and asphalt are removed with mineral oil. An additional application of asphaltum and another acid bath create shading, if desired. Creating a plate that is ready for printing takes a few days for smaller plates and nearly two weeks for larger ones. The quicker the whole process moves, the better it works.
Inking
When it comes time to print, the plate is warmed so the ink readily fills the crevices created by the acid. Coppock spreads the heavy-bodied oil-based ink with mat board scraps and wipes the excess off the plate. She lets the plate cool before printing, so it prints with more contrast.
Printing
Coppock uses traditional etching paper that comes from France, which is torn, never cut. She places the plate face up and lays a damp paper over the top. The paper is covered by a couple of thick felt-like pieces of cloth and run through the press by turning a wheel that uses gears to move the rollers. The ink from the plate is transferred to the paper through pressure. It's not until she lifts the paper and looks at it that Coppock finally sees what the piece actually looks like. Each image she sells is printed by hand, which can be seen by the embossed shape the plate leaves in the paper.
Hand coloring
After the image has transferred and is dried multiple times between blotters, Coppock often hand-paints the pieces with watercolor.