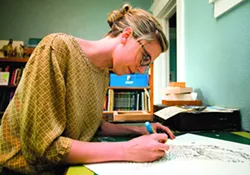 By Dominique Wald dwald@dnews.com
MOSCOW — Lauren McCleary is no stranger to the Moscow Artwalk, but this will be the first time the Moscow artist is participating solo.
In past years, McCleary has worked with her husband as an art-producing team.
McCleary is one of more than 125 artists whose work is on display at the annual event, starting at 3 p.m. Friday downtown.
One of McCleary's solo pieces, "Night Shifters," was selected as the cover art for Artwalk advertisements and brochures and will be showcased along with six other pieces during her reception from 5 to 10 p.m. Friday at Bloom restaurant.
The piece is made of cut paper, a medium McCleary has been exploring since her undergrad years in Colorado. She got her master's degree in fine arts at Washington State University, and now works as an education coordinator at Prichard Art Gallery.
"When working with cut paper, I usually use white paper," McCleary said. "This is actually the first time I've used multiple colors."
This year's event will feature new sculptures at the Intermodal Transit Center and a poetry reading by Moscow Poet Laureate Tiffany Midge.
"I love that the entire town is going to be celebrating different types of art at once," McCleary said. "There's a lot of talent in this community."
A full schedule of events for the Moscow Artwalk can be found online at www.ci.moscow.id.us/arts.
From Arnold to Artwalk Sculptor Ralph Crawford will be a Moscow Artwalk first-timer this year, showcasing more than 60 pieces of his work on the second and third floors of Moscow City Hall.
Since first hitting the art scene in 1972, Crawford's most well known piece is a 5 foot sculpture of Arnold Schwarzenegger. The sculpture captured Schwarzenegger's classic body-building pose, "Arnold's Classic." It's the award at the annual Body-Building Championship event Schwarzenegger sponsors in Ohio.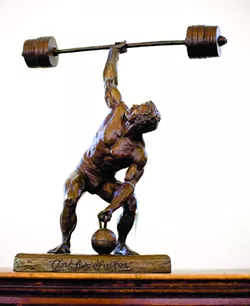 Crawford says his exhibit at the Moscow Artwalk will feature terracotta and paper sculptures, collages, water color, oil and acrylic paintings. All will depict Western wildlife. His work will be on display until mid-September.
If You Go What: 2015 Moscow Artwalk When: 3 p.m. Friday Where: Friendship Square and businesses throughout Moscow