"Substance of All Things Hoped For" takes a look back at the 1980s: the AIDS epidemic, the freezing and death of homeless people during a New York subway power outage and Air Florida Flight 90 crashing into the Washington, D.C., 14th Street Bridge.
But Abuzz Theatre Company's production of the three-act play also celebrates the play's 25th anniversary — and a time when Abuzz founding director Torok Lewis and the "Substance" playwright Andrew Adam Caldwell met at Lewis-Clark State College.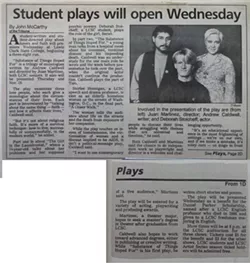 "Still to this day, even though it's 25 years old, it's still very on-the-edge, if you may. It's eye-opening," said Lewis, who dialed up Caldwell in Seattle to request that "Substance" be Abuzz Theatre's first-ever production. "It's probably gonna make some people uncomfortable. But uncomfortable, not in a bad way, but in that they're being forced to deal with issues that we don't ever have to deal with or think about."
"Substance" follows three people who tell completely separate stories.
"A Girl and Her Laundromat" follows Sarah, a supposed psychic, played by Gabi Garcia. "The Healing of Thomas" features a young homosexual man in the hospital dying from AIDS, and is played by Jacob Trickey. "A Closer Walk," acted by Sheila Scott, follows homeless Elizabeth and her tales of her partner Willy.
Each actor is alone on stage with miniscule props, as pantomiming will force audiences to use their imagination. Lewis said each actor had to memorize multiple pages of monologue for the show — some were 13 pages long.
"There's a lot of lines to learn, and for the actors that would probably be the biggest challenge," Lewis said. "You don't have any points of reference, except for what you're doing later on stage. Usually when you memorize, you have this chunk, this happens, these people talk, I have these lines. And this is all just monologue."
Caldwell has enormous respect for the actors who have performed his show through the years — "Substance" was featured in four different locations between 1988 and 1992 — and he even knows the struggle to memorize the lines. In the first production, the actor originally cast to play Thomas was not able to be in the show, so LCSC director Juan Martinez asked Caldwell to play his own character.
"Here I am in my own show," Caldwell said. "No one can say your line, no one can try and throw you a rope."
But unlike his character Elizabeth, who was inspired by news events at the time, and Sarah, who was modeled after a girl Caldwell met at a party, Thomas was more personal.
Caldwell, who was 22 when he wrote "Substance," said he had next to no experience with any of his character's issues directly. He has since had friends with HIV, but did not at the time. Yet somehow, he finds pieces of himself in Thomas.
"I had this youthful exuberance and I thought (these issues) were important politically, but I just wanted to get into the character," Caldwell said. "Maybe it was a fad experience for me as a 22-year-old gay man, who was facing his future of adulthood ... Ya know, what would happen if I were to have AIDS, or even a terminal illness, so what would I do? How would I feel?"
Lewis has had a couple of good friends die from AIDS. Choking back tears, he said "The Healing of Thomas" is a very emotional piece.
"(Trickey) does a good job portraying this guy," Lewis said. "It's not easy to be on stage and acting like you're dying and going through all these emotions. It's really heart-grabbing."
Lewis prompted Trickey to watch movies and old news clips to learn how AIDS was dealt with in the '80s.
"Jacob is a heterosexual man playing a gay character dying of AIDS. So, he's had a great challenge to not come off as 'I'm acting as a gay person,' " Lewis said. "He's actually becoming this gay character on stage and he does it believably."
Overall, the pieces deal with emotion and faith — each character has their own tribulations. Caldwell, after all, named the play after a Bible verse. "Now faith is the substance of things hoped for, the evidence of things not seen: Hebrews 11:1."
Caldwell will be present for opening night, in the exact location "Substance" debuted 25 years ago. He will speak with Lewis and the actors during a question-and-answer session following the play.
"Though it's a period piece dealing with homelessness and AIDS, and that gives it a kind of cachet, it also still has legs in that the themes of hope and faith and struggling with faith are always going to be universal."
Treffry can be contacted at (208) 883-4640 or ltreffry@inland360.com. Follow her on Twitter @LindseyTreffry.
->if you go
WHAT: Abuzz Theatre Company's production of "Substance of All Things Hoped: A Trilogy from the 1980s"
WHEN: 7:30 p.m. Nov. 29, Nov. 30 and Dec. 1. Doors open at 7 p.m.
WHERE: Silverthorne Theatre, Administration Building, Lewis-Clark State College, 500 8th Ave., Lewiston
COST: $10 tickets can be purchased online at abuzztheatre.com, or at the door.