Alone we can do so little; together we can do so much.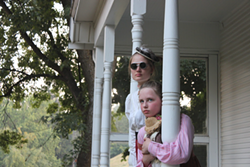 These well known words of Helen Keller's might never have been said were it not for her teacher Annie Sullivan. "The Miracle Worker," a play about Keller's childhood and her early interactions with Sullivan, opens Friday in Pullman.
This family-friendly play tells the story of Keller (Eliza McNelly, Pullman), who was left blind and deaf from a severe fever she suffered from as a baby. Unable to communicate, her frustration affected the whole family and often led to violence. As a last resort before having her institutionalized, Keller's parents (Matthew and Amy McNelly, Pullman) sent for help from a school for the blind and the formerly blind Sullivan (Tessa Carmen, Moscow) arrives at their home. Keller resists Sullivan at first, but through Sullivan's persistence and insight, the two eventually bond and Keller learns to express herself and connect with others and her world.
"The play revolves around communication, not just for Helen Keller, but how families communicate and how handicaps can be present but unseen," said Michael Todd, director.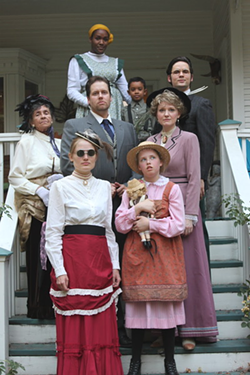 In the play, Sullivan enters Keller's world by seeing -- or unseeing -- things through her experience. For example, when Sullivan arrives, she drops her suitcase abruptly on the front porch to let Keller know that she's there. It's an action that was startling to those who could see and hear, but was a gentle sign to Keller who would have been startled and disturbed by a handshake or a person suddenly reaching out of the silent darkness to touch her.
"That's entering her world and seeing it from her perspective," Todd said.
Though the story follows a girl who is blind and deaf, the story is about all of us, Todd said.
"The characters all have handicaps in a way that they bridge through kindness, through acceptance and through forgiveness," said Todd. "It's a model for everyone."
Because the play is based on real characters and events, each cast member researched their character's background so as to more accurately portray the dynamics present. Additionally, Keller and her parents are played by a real life daughter-father-mother family unit that lends some authenticity to their interactions, Todd said.
IF YOU GO:
WHAT: "The Miracle Worker"
WHEN: 8 p.m. Friday and Saturday, 8 p.m. Sept 29-30
WHERE: Regional Theatre of the Palouse, 122 N Grand Ave., Pullman
COST: $12 in advance through the box office at (509) 334-0750, $14/at the door, $14.99 at www.rtoptheatre.org