From a howling coyote to life casts of her family's faces, sculptures fill every corner of Sharon Taylor Hall's home. Gargoyles with wide-open jaws stare into the back garden, and bulbous, female figures she calls "humas" line the counter of her basement studio in preparation for Downtown Art Walk.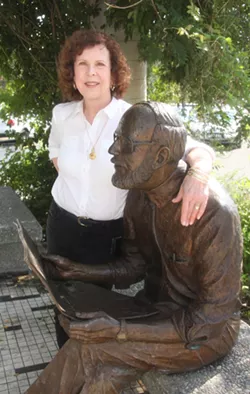 Hall's art is around every turn, much as in Lewiston, where she resides with her husband, Bill.
"I like to be able to get around on all sides of a piece, and I think that's really satisfying," said Hall, 74. "I can hardly keep my hands off other people's sculptures. I've almost gotten thrown out of various art museums. I always say, 'Please touch my sculptures.'"
And people do just that.
A light finish has rubbed off the foot of her free-standing bronze of Thomas W. Campbell, who reads a Lewiston Tribune newspaper in the Tribune Centennial Plaza.
"Sacagawea and Coyote" is installed in the center of a large public fountain in Pioneer Park, where children can splash in the heat.
Her life-size sculpture of a Bengal tiger head is at Lewiston High School, and a life cast of the late professor David Sears, with Mayan warrior flair, lives in the Lewis-Clark State College kinesiology department.
Breanne Durham, executive director of Beautiful Downtown Lewiston, said Hall was selected to be the 2013 Downtown Art Walk featured artist because of the extent of her public art
"I asked (the Art Walk committee) to all bring nominations to a meeting earlier this summer, and we considered each artist based on several ideal qualities, including that the artist be local, have a significant body of work, and have some aspect of timeliness. We unanimously selected Sharon based on the high quality of her work and the criteria I listed above."
Hall said while she felt honored, she wasn't quite sure why she was chosen.
"It had something to do with all the public art I've done," Hall said. "I've volunteered my services for all the public art that I've done, and I've just asked for them to pay for the casting."
Despite her collection of public art, Hall hasn't always been a sculptor.
"I taught sculpture at the college a few times, but mostly what I taught was English and linguistics," Hall said.
An English as a Second Language teacher for 23 years, and program head at LCSC, it wasn't until Hall had four children and got her linguistics Ph.D. that she decided to take a sculpture class.
"I always drew and I painted, but I always wanted to sculpt and I'd never really had an opportunity," she said.
A University of Idaho instructor taught sculpture at LCSC and Hall signed up. Hall then taught an occasional LCSC sculpture class herself. Now retired, Hall sticks to teaching a few private lesson in her studio at home.
"She's beauty producing beauty," said Bill, her husband.
Soon, Washington State University will feature Hall's sculpted bust of Tom Foley, once remodeling has ceased at the Foley Institute. Hall said she hopes the Lewiston City Library will find the money to cover partial costs of one of her sculpted humas figures reading a book to two children.
Hall will give a lecture, "Sculpting Tom Campbell," at 5:30 p.m. Thursday in preparation for Art Walk at the Lewiston City Library.
Treffry can be contacted at (208) 883-4640 or ltreffry@inland360.com. Follow her on Twitter at: @LindseyTreffry.
-> if you go: WHAT: Sharon Taylor Hall lecture, "Sculpting Tom Campbell"; art display WHEN: 5:30 p.m. Thursday; 5-9 p.m. Friday WHERE: Lewiston City Library; Tribune Centennial Plaza COST: Free