If Shakespeare had time traveled to the 1950s, "A Midsummer Night's Dream" might look a little like the show opening this weekend at Lindsay Creek Vineyards in Lewiston.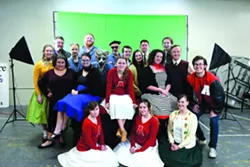 The Lewiston Civic Theatre will perform the classic Shakespearean tale with a twist -- it's set at Athens High School in the 1950s and will include songs and dances from that era. The show tells the story of four young people in love who encounter various obstacles in their ardor. When the fairy kingdom comes to their aid, mishaps ensue, and we find that falling in love makes fools of us all.
"A lot of people who put on Shakespeare enjoy setting the play in different time periods," explained Cheryl Tousley, director. "It's a fun way of interpreting the show."
It's not the first time she's employed the technique. Years ago, Tousley directed a version of "Much Ado About Nothing" that was set in Texas and accompanied by country music. More recently she saw a 1950's production of "A Midsummer Night's Dream" in Seattle and contacted the show's producer to see about doing a similar version in Lewiston. The upcoming production uses borrowed elements along with original ones.
The addition of the music, Tousley said, is fun for actors and audience alike. The songs pick up on the lines from the show. For example, "I Will Follow Him" is performed after that line is spoken from the original script. This adds a level of familiarity and helps make the show easier to follow.
The light-hearted comedy is appropriate for all ages, Tousley said.
"The actors work hard to make Shakespeare comfortable for the audience. I don't think people will go and be confused," Tousley said.
IF YOU GO
WHAT: "A Midsummer Night's Dream"
WHEN: 7:30 p.m. Friday, Saturday and April 20-21, 2 p.m. Sunday and April 22
WHERE: Lindsay Creek Vineyards, 3131 Powers Ave., Lewiston
COST: $17 adults, $15 veterans and seniors 60 and older, $14 students 13 years through college, $11 children 12 years and younger; tickets are available in advance at www.lctheatre.org or by calling (208) 746-3401