A princess is giggling backstage, while a yellow chicken walks high on her heels in front of the set. A towering prince in bright green and blue stands tall above the cast, as a little boy in tie dye holds tight to his head, so that his hat of cheese, bacon and olives — forming a face — won't fall off. After all, the play is named after his character, the Stinky Cheese Man.
It's just an average day of rehearsals for the Pullman Civic Theatre's cast of 21, mostly children, as they prepare for their production of "The Stinky Cheese Man and Other Fairly Stupid Tales."
"The play is a conglomeration of really stupid tellings of fairy tales," said Jessica Cross, the set designer, co-director and Red Hen actor.
Fairy tale characters include Jack (from Jack and the Beanstalk), Princess and the Pea, Ugly Duckling and Cinderumpelstiltskin — a mish-mash of Cinderella and Rumpelstiltskin.
"It has a lot of Grimm fairy tales with more realistic endings," said the other co-director Kami Cornwall. "It doesn't set our daughters up for happily-ever-after endings."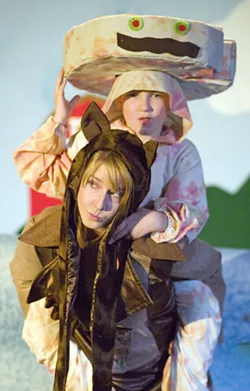 "The Stinky Cheese Man" was once a book, adapted by playwright John Glore, which PCT picked up for their summer production.
"It's a really good adaptation," Cross said. "People who love the book will love the play."
While its title says otherwise, Cross said Jack, not the smelly block of cheese, is the glue that holds everything together.
Will Schlott, 13, plays Jack, and said that despite having been in five PCT shows, this is the most he has ever been on stage.
"In this production, a lot of stuff is made to go wrong, so the narrator is often intervening to keep the show running," Schlott said.
He admits to still memorizing his lines days before the premiere, although his opening scenes seem flawless.
Andy Cornwall, 7, is not only the son of co-director Kami, but the Stinky Cheese Man himself.
"I run around the stage, I run into a few people," Andy said, adjusting his cheesy hat. "I try to get them to chase me, but they don't, because I'm stinky."
And then, the Stinky Cheese Man, based off of the Gingerbread Man, has to sing a song, Andy said. Kami said while she wouldn't classify the play as a musical, there is music and singing.
In one scene, the Stinky Cheese Man is on the back of Foxy Loxy, a fox played by 25-year-old Rachael Mlakar.
"She's just trying to lure whatever animal she can and get a meal out of them," she said.
In narrative dialogue, Mlakar speaks to the audience and stands near a rolling river of sheets. Once her hunger clears and her sinuses open up, she recognizes the stench. She says the Stinky Cheese Man falls off her back ... and well, we can't give too much away.
PCT will feature "The Stinky Cheese Man" Thursday through Sunday and again July 25 through 28.
Tickets can be purchased at pullmancivictheatre.org or at Neill's Flowers and Gifts, Wild Ivy and Dissmore's for $12 or $10 for matinees. Tickets cost $15 at the door, or $12 for matinees.
Treffry can be contacted at (208) 883-4640 or ltreffry@inland360.com. Follow her on Twitter at: @LindseyTreffry.
-> if you go: WHAT: Pullman Civic Theatre's production of "The Stinky Cheese Man and Other Fairly Stupid Tales" WHEN: 7:30 p.m. Thursday, Friday and Saturday, 2 p.m. Sunday; 7:30 p.m. July 25, 26 and 27, 2 p.m. July 28. WHERE: Pullman Civic Theatre, 1220 NW Nye St., Pullman COST: $12 or $10 for matinees, pre-purchased. $15, or $12 for matinees, at the door. NOTE: Concessions will be for sale by donation.