By MICHELLE SCHMIDT of Inland360
The story Navin Chettri tells of becoming a musician includes the typical elements of childhood interest, initial parental disappointment and a lucky break. But there also are some unique elements: an impromptu performance with Sting and founding what is now a world-renowned jazz festival.
And one other thing: Chettri lives in Nepal.
Chettri is the energy behind the World Music Celebration at the University of Idaho this weekend. The role is appropriate because if there's anyone who can appreciate the value of musical cross-pollination, it's him.
Chettri grew up in India among Nepali people. Music is entwined in the Nepali culture, so he absorbed the sounds of his culture along with those of traditional Western music taught at the school he attended. It was only a matter of time until he formed a band with three other musicians.
Kathmandu, in Nepal, was the regional cultural mecca. That's where musicians went to make a go of it, Chettri said, so that's where he and his band went and got their lucky break. It was also there that Sting was in the audience one night and accepted an invitation to perform a song with his band.
But Sting wasn't the only musician visiting Kathmandu. There were musicians from around the world that would play in the tourist district, and it was there that Chettri was introduced to jazz. It was a musical exchange that changed his life.
Eastern music, like jazz, has an improvisational element, so it wasn't an entirely new concept, just one whose style had yet to take hold in Nepal. Chettri said he soaked up the concerts and jam sessions and John Coltrane tapes and ended up performing in a jazz festival in Australia.
When he returned, something even bigger happened.
"I believe when something is going to happen, it's going to happen," he said.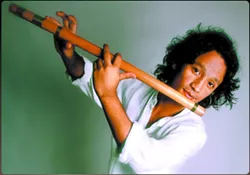 The year was 2002 and jazz was happening in Kathmandu. One connection led to another and in the span of two months, Chettri had organized Kathmandu's first jazz festival, featuring five bands from around the world. Twelve years later, that week-long festival — known as Jazzmandu — is going stronger than ever, with sellout crowds taking in performances at venues throughout the area.
Perhaps then, it is his own story that most fueled the vision for this weekend's World Music Celebration. Chettri introduced the event in 2012 while working on his master's degree in music at UI. During this weekend's event, three musicians, including Chettri, will perform with UI students for a true world music collaboration.
The purpose for the weekend is multi-faceted, Chettri said. There is the educational aspect for the students involved. Instead of a workshop where they just sit and listen, they're interacting with the artists, which is more engaging and which Chettri believes will be more fruitful.
But another part of the event is just giving the community a chance to see and experience music from other cultures. Most people in the area can't travel to the far ends of the earth to hear music, so Chettri is bringing that music to Moscow.
"It's the whole reverse that happened at Kathmandu," he said.
Now, instead of the music coming to him, he's bringing music to the world.
WHAT: Premiere Art Exhibition with an opening performance by the World Beat Ensemble WHEN: 6:30 p.m. to 8:30 p.m. Thursday, March 6 WHERE: Ridenbaugh Hall Gallery on the corner of Nez Perce Dr. and Blake Ave. in Moscow COST: Free
WHAT: Music from India and Nepal, featuring Navin Chettri and Manose Singh with UI Jazz Choir 1 and Jazz Band 1 WHEN: 7:30 p.m. Friday, March 7 WHERE: Haddock Performance Hall at 1010 Blake Ave in Moscow COST: $5 for adults, $3 for students and senior citizens. Tickets at the door.
WHAT: World Music Workshop WHEN: 2:00 p.m. to 3:30 p.m. Saturday, March 8 WHERE: Haddock Performance Hall at 1010 Blake Ave in Moscow COST: Free
WHAT: Sounds and Rhythms of Brazil, featuring Eduardo Mendonca with Chettri and Singh with UI Jazz Choir, Jazz Band, World Beat Ensemble and Percussion Ensemble WHEN: Saturday, March 8 at 7:30 p.m. WHERE: Haddock Performance Hall at 1010 Blake Ave in Moscow COST: $5 for adults, $3 for students and senior citizens. Tickets at the door.
Schmidt can be contacted at themichelleschmidt@gmail.com or at (208)305-4578.