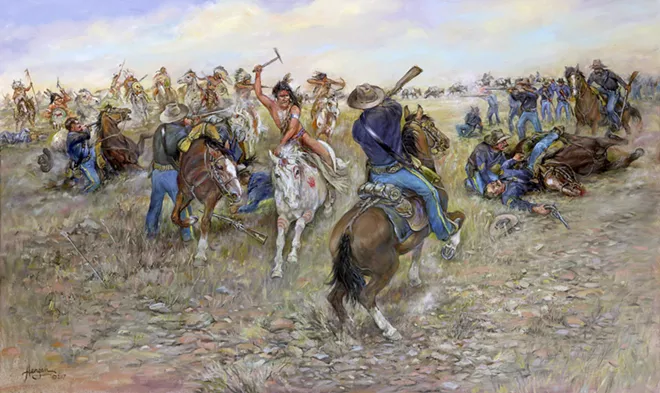 Nona L. Hengen grew up on a homestead near Spangle, Wash., five miles from a quiet Palouse creek where a hanging took place.
The 83-year-old remembers riding her horse there as a child to see the stone monument marking the spot where, in 1858, Col. George Wright hung Qualchan, a Yakama Indian sub-chief who came east to help area tribes resist white settlement.
Adding to the monument's mystery was a story from Hengen's mother, who remembered hiding behind a tree as a child to watch an Indian couple that came to visit the location.
"You just wonder what really happened," Hengen said of the question that inspired her to spend years exploring frontier battles of the Inland Northwest with a paintbrush.
Hengen's paintings of conflicts between the U.S. Government and regional tribes are on display at the Wenaha Gallery in Dayton where the Spangle artist, historian and former educator will speak Saturday, March 3.
The series features 15 paintings flush with historical detail. The first 14 were done in the 1980s. She completed the 15th last year upon a request from the Spokane Tribe which used the painting in a YouTube video about its history, she said. The painting is of the Battle of Steptoe, in which an estimated 800 to 1,000 warriors from the Palouse, Spokane, Yakama, Coeur d'Alene and other tribes nearly decimated the troops of Lt. Col. Edward Steptoe near present-day Rosalia, Wash., in 1858.
Hengen used primary source material to inform her work, from the kinds of saddles in use, to how clothing was fastened before the Civil War. Steptoe's troops were not expecting a fight, she said. They were lightly armed, while the Indians fought with spears, shields, bows and arrows.
"They say a good bowman can get off six arrows a minute," she said. "I kept running into those facts that would drive the painting."
In reaction to Steptoe's defeat, his superior officer, Col. Wright, led attacks on area tribes which included the Sept. 8-9 slaughter of 800 tribal horses shot and clubbed to death on the shores of the Spokane River near what is now the border of Idaho and Washington. This is the focus of another painting.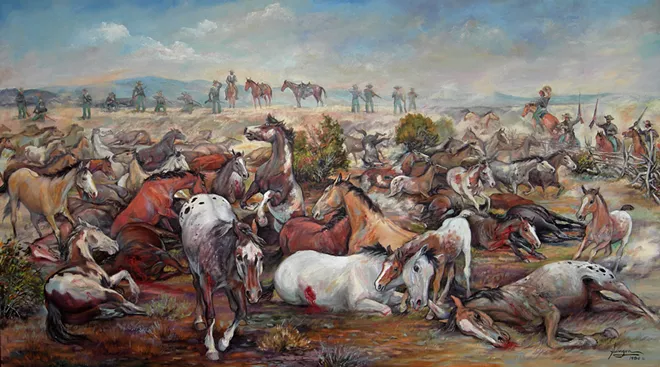 Hengen said she is honored that her paintings have been used by various authors, as well as by National Geographic, to illustrate historical works. They've also been exhibited in the House of Representatives' hearing rooms at the state Capitol in Olympia.
IF YOU GO WHAT: Inland Northwest frontier battle paintings by Nona Hengen WHEN: Reception 1 to 4 p.m. Saturday, March 3 WHERE: Wenaha Gallery, 219 E. Main St., Dayton COST: Free OF NOTE: Hengen will give presentations at 1:30 and 3 p.m. The reception also features Walla Walla watercolor artist Roy Anderson and Pasco glass artist Gregory Jones. Gallery hours are 9 a.m. to 6 p.m. Monday through Saturday.