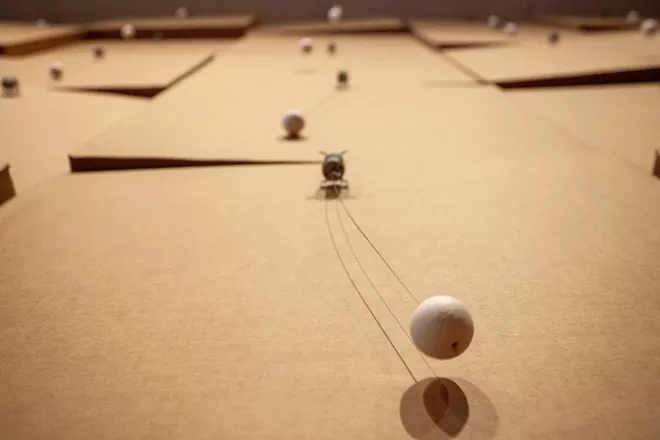 By Jill Wilson
For Inland 360
Sonic art: it's an emotive medium so abstract – and yet so direct -- it has not so quietly changed audiences' perception of art over the last few decades.
Now showing at the University of Idaho Prichard Art Gallery in downtown Moscow is a sound installation by self-taught, award-winning, Swiss artist Zimoun. This is the first time his work is being shown in the region and his second solo show in the United States.
Roger Rowley, the gallery's director, reached out to Zimoun in 2017.
"With most internationally active artists, this is a black hole with no response," Rowley said. "To my surprise I received a response within 24 hours, including a series of questions. We've spent the past two years writing grants and fundraising to make this project possible. Having created the opportunity, there was no way we were letting this slip away."
What makes a work of art an "installation" is its relationship with the space. The Prichard gallery, with its open floor plan and intimate acoustics, has a tangible effect on the finished product. As Zimoun said in a 2017 interview with Kadenze Academy, "It's about the physical space as my work deals with real materials, spaces and sound properties. Each space is somehow finishing the work in its own way and this "finish" is based on the sound properties of the space itself."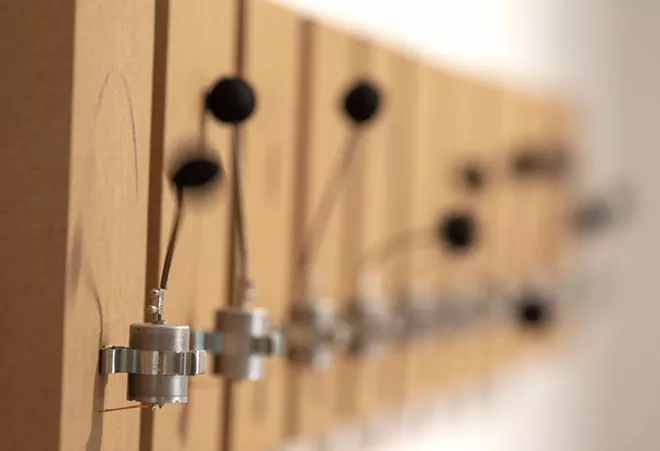 Audience response has been "overwhelmingly positive," said Rowley. More than 5,000 people visited the exhibit between Aug. 3 and June 21, when it opened. The previous best exhibit attendance was 4,137 for Jeanne Leffingwell's "Million Bead Project, he said.
"That was for two months. This has been six weeks and we're not even halfway through the exhibit run."
Sound installations have had limited showings in major art galleries because of the disturbance to other exhibits. The Prichard allowed the artist to fulfill his vision by providing him a solo show.
"Our vision is to be the most ambitious, cutting-edge, forward thinking exhibition space in the state and region," said Rowley. "Our funding makes that a challenge. This exhibit demonstrates our commitment to the vision. It sets a marker for what we can do for the university and community if properly resourced, and maybe most importantly, it says to artists we approach in the future that we are willing to do what it takes to create something spectacular."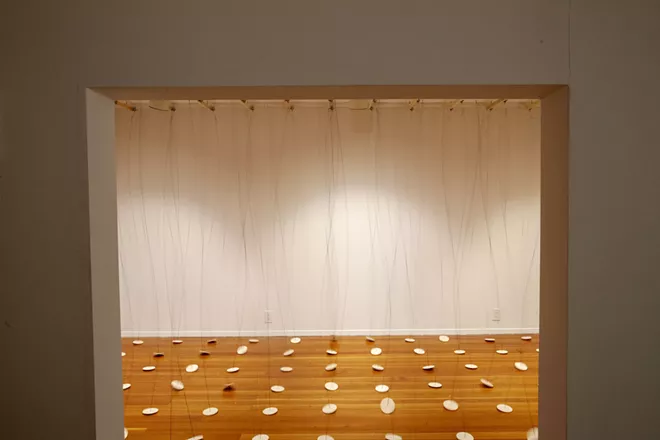 Each room of the exhibit, built as Zimoun requested with low hanging doorways, contains a unique, stand-alone sound installation. One room might evoke the feeling of comfort, like the sound of rain drumming on a rooftop or the low hum of a fan. Another room might spark unrest and serve as a stark reminder of the relentlessness of the mundane. The result is a mosaic of sensations morphing in composition as one moves throughout the gallery. It's like being inside a kaleidoscope of white noise and minimalistic nostalgia. It's a visceral experience that's different for everyone. But one thing is for certain, this multi-dimensional art form makes it easier to answer the immortal art question: "How does it make you feel?"
https://youtu.be/c_BnLdSOb_Q
If you're looking for something to expand your imagination, consider checking out this one-of-a-kind work by a world renowned artist. After all, if a sound installation moves in a gallery and nobody is there to hear it, is it still art?
IF YOU GO
WHAT: "Zimoun: 618 motors, 804 m rope, 341 sticks, 172 boxes, 920 g cotton, 22 cm³ felt, 161 wires, 105 disks, 11 springs, 1 video."
WHEN: Through Sept. 22.
WHERE: University of Idaho Prichard Art Gallery, 414 S. Main St., Moscow.
COST: Free, donations welcome.
OF NOTE: The gallery is open 1 to 6 p.m. today and Friday and 9 a.m. to 3 p.m. Saturday. Starting Aug. 26, gallery hours are 10 a.m. to 8 p.m. Tuesday through Saturday and 10 a.m. to 6 p.m. Sunday.