The Regional Theatre of the Palouse's production of "The Sound of Music" is all about family — and not just the von Trapps.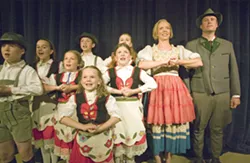 Katie McDougall plays Maria. Brigitta, played by Dora, is McDougall's daughter. Friedrich, played by Garret, is the son of RTOP musical director and actress Tina McClure. Louisa and Kurt, played by Sophia and Isaiah, share the same last name.
"I love RTOP, I love this theater and I love the people who are involved in this theater," McDougall said. "And I wanted to be in a summer production with my daughter."
Dora, who is 10, has provided her mother with notes on yodeling, with tips to soften some of her high pitches.
"This is her zone and I may be infringing on it," McDougall said, laughing. McDougall played Nancy in last summer's production of "Oliver."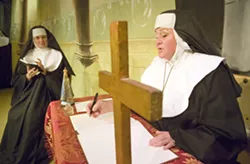 "And that's been the first play I've done in 20 years," said McDougall, who was inspired by her daughter to join. "So we came in and I was just amazed. I just had never expected this little gem of a theater here."
Dora performed in "Oliver," too, but "The Sound of Music" is her third main stage part.
"I'm Brigitta and she's kind of naughty," Dora said. "She spies on people and tells other people about them."
McDougall said it's been a challenge balancing her daughter's schedule and her RTOP schedule, while working full time as a veterinarian at Alpine Animal Hospital.
"It's physically demanding to play the role, singing and moving on stage and changing costumes, but also the vocal stamina needs to be maintained for all of these shows, and this is not something I do professionally," McDougall said. "So it's taking some pacing ... but it's totally worth it. I love it. It's just a great outlet."
Todd Payne, who plays Captain Georg von Trapp, didn't officially audition for his part. After calling RTOP director John Rich for advice on Payne's own Potlatch production of "Pollyanna," Rich told Payne he hadn't found a captain yet.
"And I came on board that way," Payne said.
Payne said the five weeks to prepare the show was tough, having more lines than any production he's ever been in, but playing the head of a family came easy.
"He has seven children, I have four girls, so it kind of matches up a little bit," Payne said, comparing himself to Captain. "He lost his wife, I haven't. And he's trying to raise his children in the only way that he knows how in his grief."
Being a captain in the Navy, Payne said Captain runs his house more like a ship, without having a wife there to help temper it, which is why Maria, the children's governess, comes on the scene.
"Some of the scenes with the kids are just kind of heartwarming and fun and I can just imagine sharing moments like that with my own kids," Payne said. "When the children are singing for the first time, and he hears them singing for the first time, he's moved so much that he breaks into song."
Rich said "The Sound of Music" cast is strong.
"I've directed this show for many years. I've worked with celebrities in the roles, I've done it in dinner theater, I've done it in big venues outside," Rich said. "It's a show I know well, and so it's getting the detail and flavor of Europe right, of Austria."
Rich stresses the pronunciation and the Austrian dialects in the show.
"The thing is I try really hard to stick to the true direction of how it was done on Broadway with whatever instruments I can," Rich said. "I've even worked with the original Broadway sets."
While RTOP doesn't have the originals, their backdrops were designed and painted in New York and then shipped to the theater a few weeks ago.
Pre-recorded music will play through the RTOP speakers and the cast of more than 30 will sing popular "The Sound of Music" songs such as "Edelweiss" and "So Long, Farewell."
Every other night, the von Trapp children actors will rotate casts, as each child's role is double-cast.
The RTOP's production will feature "I Have Confidence" and "Something Good," which are from the movie and not the musical adaptation.
Adult ticket prices are $17 in advance or $20 at the door, while children under 13 are $10 in advance and $12 at the door. "The Sound of Music" runs today through Aug. 25.
"Tickets are going fast," Rich said.
Seating options can be viewed online at rtoptheatre.org and seats should be reserved by calling (509) 334-0750.
Treffry can be contacted at (208) 883-4640 or ltreffry@inland360.com. Follow her on Twitter at: @LindseyTreffry.
-> if you go: WHAT: RTOP's production of "The Sound of Music" WHEN: 7:30 p.m. Aug. 15, 16, 21, 22, 23; 1:30 and 7:30 p.m. Aug. 17 and 24; 1:30 p.m. matinee-only on Aug. 25 WHERE: Regional Theatre of the Palouse, 122 N. Grand Ave., Pullman COST: Adult ticket prices are $17 in advance or $20 at the door, while children under 13 are $10 in advance and $12 at the door. Tickets can be reserved by calling the RTOP box office at (509) 334-0750.