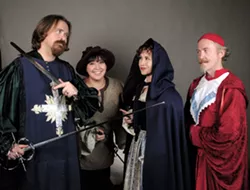 With plenty of heroism, treachery, close escapes and swordplay, the Lewiston Civic Theatre opens "Three Musketeers" tonight at the Clarkston High School auditorium.
Adapted from the classic tale by Alexandre Dumas, the play follows d'Artagnan (Ethan Smith of Clarkston) as he sets off for Paris in search of adventure. He is joined by his sister Sabine (Kayla Comer, Lewiston), who poses as his young male servant and is quickly caught up in her brother's antics. When they reach Paris, the two encounter the famous musketeers — Athos (Matt DeBerard, Clarkston), Porthos (Ethan Antram, Clarkston) and Aramis (Micheal Keene, Lewiston) — and d'Artagnan joins them to defend the honor of the Queen of France. Doing so, however, puts him in opposition to the dangerous Cardinal Richelieu (Paul Segren, Lewiston) and Milady (Rebecca Hardin, Clarkston) and trouble ensues.
"There's a lot of action, but also a lot of humor," director Larry Goodwin said.
The family-friendly show is rated G and is reminiscent of the 1973 film version of the story, Goodwin said.
This is the second show the Lewiston Civic Theatre has performed at the Clarkston High School auditorium since their building was condemned in August. Goodwin, who is also the drama adviser at Clarkston High School, said production has gone well despite the challenges with not having their own stage.
IF YOU GO:
WHAT: "Three Musketeers"
WHEN: 7:30 p.m. today, Friday, Saturday and Nov. 10-12, and 2 p.m. Nov. 12-13
WHERE: Clarkston High School, Auditorium, 401 Chestnut St., Clarkston
COST: $15.90/adults, $12.72/students ages 13 through college, $9.54/children age 12 and under, $13.78/adults age 60+; Thursday tickets are discounted to $11.66; tickets available at lctheatre.org, by calling (208) 746-3401 and at 102 New 6th St., second floor mezzanine.