"All we are saying ... is give Peeps a chance." — with apologies to John Lennon
Gather up those colorful, squishy bunnies and chicks; it's time for 360's fifth annual Peeps Diorama Contest.
You'll need to dream up some hijinks for those marshmallow cuties to get up to. Perhaps you'd rather put them in peril, or place the noble Peep into a position of importance.
I have suggestions to keep in mind while you're mulling over your choices.
This is, first of all, a Peeps contest, so don't skimp on the Peeps, people. Spend some time figuring out how to get a lot of Peeps in on the action, and get your Peeps involved in the fun.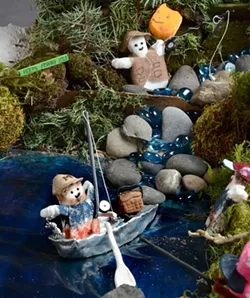 As always, consider a scene from a favorite book or movie, video game or app. Perhaps you'd like to gather your Peeps for a great moment in U.S. history, a scene that comes right out of the beautiful Pacific Northwest, or anywhere around the world. Almost anything goes; we just ask you keep it clean enough for publication in a family newspaper.
If you aren't sure what a Peeps diorama is, just image search those two words online or visit www.inland360.com and enter "Peeps" into the search window to see winners of previous 360 contests.
Here's how to enter the contest:
1. Buy a bunch of marshmallow Peeps, either bunnies or chicks or both.
2. Using the Peeps and other props, construct and create an interesting scene.
3. Take photos.
4. Send the photos to 360.
Easter is early-ish this year, so the deadline for your photo submissions is noon March 19. As many as three photos of each diorama may be submitted.
You may drop off or mail prints to the Tribune office, 505 Capital St., Lewiston, ID 83501, or email photos to contests@inland360.com. Please put "Peeps contest" in the subject line.
Do not eat or destroy your creation after photographing it, because if yours is chosen as a winner, you'll need to bring your Peeps diorama to the Lewiston Tribune photo studio March 23 for a photo to be published on the cover of the March 29 edition of 360.
Entries will be judged by the staff of 360, and all entries also will be available for viewing online at inland360.com, where they will compete for a Peeple's Choice Award.
There are two age categories: 12 and younger; and 13 and older. Submitters must include the following information about each diorama's creator: name, age, city, email address and telephone number.
The winners will each receive two movie tickets. All who enter will receive an Inland 360 sticker.