The City of Moscow Art Department sent out a call for four traffic box designs that were answered and completed just in time for Moscow Artwalk.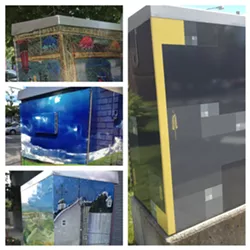 The vinyl-wrapped traffic boxes were designed by Dana Rand (located at 3rd and Jackson), Jennifer Rod (6th and Washington), Kat Clancy (3rd and Washington) and Lianna Wappett (6th and Jackson).
Each artist was awarded a $100 stipend for their work.
Moscow City Art Assistant DJ Scallorn said the vinyl artwork will likely remain for a year and will then be switched out with new graphics.