A military interrogator with post-traumatic stress disorder returns home from the War on Terror to be treated by a female military psychologist in Washington State University's first STAGE play of the year.
Actors Chelsea Gilpin and Brian Linnenkamp will take on the two-person "The Treatment," which explores the mind of a heavily troubled being who committed wartime atrocities.
It has already generated criticism from the university's Student Veterans Committee.
Sarah Tisinger, director of "The Treatment" and public relations director for STAGE, said she proposed the show last spring after seeing it in New York City. In announcing the show, STAGE's president reached out to the president of SVC.
After looking at the script, the veterans realized the show "was really casting a bad light on the United States Armed Forces, mainly the Army," said Jonathan McBride, WSU SVC treasurer. "It didn't seem very well researched."
"Nowhere in the play does it say 'Based on a true story,' " Tisinger said, noting that after some discussion of the veterans' concerns the STAGE committee decided to proceed.
Shows are at 7:30 p.m. Friday, Saturday and Feb. 14 and 15 in Wadleigh Theatre at Daggy Hall.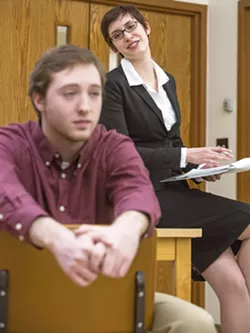 "Mental health is a huge issue in this country and this play touches on that," said Jared Chastain, stage manager and WSU history major.
Chastain said "The Treatment" will have audiences on the edge of their seats, because gender roles are reversed.
"It's a play about a man who is used to being in a dominant role in his life, like most men are — in charge — because he was in charge of lives in a military context," Chastain said. "It's about him undergoing a transition to being subordinated by a woman. It's an interesting story to look at that role reversal. She's a woman in the military, she's used to being treated subordinate, but she's a dominant, superior officer and she takes advantage of that relationship."
The play also features discussion of violence the military officer commits against his wife.
"I feel bad for his wife, because that's really who's in danger," Chastain said, "because a lot of people who go through PTSD are a danger to their spouse, significantly women."
Veterans with PTSD are two to three times as likely to be physically abusive to their wives and girlfriends as those without the diagnosis, according to a study published by the National Center for Biotechnology Information.
A spokesman for the Student Veterans Committee met with Tisinger about the play in early fall.
"We talked about it and he said he and the whole group were totally against it," Tisinger said.
"It's not that the veteran is a bad person, it's that the situations created a monster like that," Tisinger said of the play's character. "They just haven't really seen it in that light, because they think that, 'Oh, people are going to see a show about a veteran with PTSD. Everybody in the audience is going to think that PTSD is like this.' "
"It was a negative, or ignorant, depiction of how people with PTSD are portrayed," said McBride from the veterans group. "The author of the play (uses) some loose knowledge."
In the end, SVC could not offer STAGE any more advisory information, he said, because the only ideas the SVC had were to edit the play, but STAGE is legally bound to stick to the script.
"We've advised them it would not be in their best interests to go on with the play, but that's about all we could give them," he said. "It's a hard subject to deal with."
James Campbell, assistant director and WSU music composition major, said the professionalism of military psychologists is treated inaccurately and disrespectfully in the play, too. But the characters' professions are just a vehicle that drives the story, he said.
"Part of this play is forgetting the roles and just seeing them as people," Campbell said.
Tisinger said the psychologist violates professional taboos, such as sleeping with the military officer, in her quest to get information she is looking for.
Chastain doesn't even view "The Treatment" as a military play.
"That's just the background it has to be in. What other reason would he have been in Iraq and been able to torture people?" he said. "It's about a guy who has done some very unspeakable things and in the military there's a chance to do that."
But there's also a chance to do untold good, he said. From "Letters Home" to "Welcome Home, Jenny Sutter," Chastain said the Palouse has covered a range of military plays that are more uplifting than the current production.
"But I'm not in the military, so I won't understand, and I respect that," Chastain said.
Tisinger said none of the STAGE cast includes veterans, so "we can't literally understand."
"The SVC definitely has brought up their concerns," Campbell said. "We do want to try and respect them as much as possible, respect the art, respect the people ... I'm not here to piss off people who fought for our country. They don't deserve that at all."
Treffry can be contacted at (208) 883-4640 or ltreffry@inland360.com. Follow her on Twitter @LindseyTreffry.
-> if you go: WHAT: STAGE's "The Treatment" WHEN: 7:30 p.m. Friday, Saturday and Feb. 14 and 15 WHERE: Wadleigh Theatre at Daggy Hall, WSU campus, Pullman COST: $5 at the door
MORE ON "THE TREATMENT": Eve Ensler, who wrote "The Treatment," also wrote "The Vagina Monologues," which led to the launch of V-Day a non-profit movement against violence toward women. The University of Idaho Women's Center will present its 12th annual V-Day benefit production of "The Vagina Monologues" at 7 p.m. Thursday, Friday and Saturday at the Kenworthy Performing Arts Centre in downtown Moscow. Other V-Day events, films and talks can be found online at the Women's Center website.