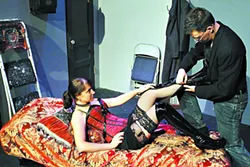 By Dominique Wald dwald@dnews.com
PULLMAN — Audience members will get a taste of a more mature production as the Regional Theatre of the Palouse brings in its "After Dark Series" opener, "Venus in Fur."
Artistic director Anthony Luetkenhaus hopes the new "After Dark" productions will appeal to a market yet to be reached with RTOP's usual family-friendly productions.
"I wanted to do contemporary theater but with a sociopolitical and savvy vibe," Luetkenhaus said.
The plays in this season's series are "Venus in Fur," "Holiday Memories" and "The Last Five Years."
Although the works deal with subject matter some might deem offensive and raunchy, Luetkenhaus said each play is done tastefully and respectfully.
"All these plays are award-winning," Leutkenhaus said. "Are they a bit raunchy? Yes. But they've also won Tony Awards and Pulitzer Prizes. We're not out to offend anyone with these works."
"Venus in Fur," which debuts Wednesday, follows the story of Thomas Novachek, played by Luetkenhaus, who has written a play based on "Venus in Fur" — the novel that inspired the term "masochism."
The play begins with Novachek expressing frustration over the inadequacies of actresses who had auditioned for the lead role that day. As he is packing up to leave for the evening, Vanda, played by Jenni Zambriski, enters the room. As their relationship progresses, the line between play and reality blurs.
Zambriski said her character and the play address the stereotypes women face in society. It's a conversation, she said, that not many people are willing to have.
"Vanda is determined and doesn't take no for an answer," Zambriski said. "In a professional setting, women who are assertive and determined are always described with a derogatory and negative word."
Zambriski said that although the play revolves around bondage, domination, sadism and masochism, the storyline is about something much more.
"It's not about really about BDSM. It's about human interaction," Zambriski said. "It's about the relationship between two people, and it's about power."
If you go What: RTOP "After Dark Series" presents "Venus in Fur" When: 8:30 p.m. Sept. 23-26 Where: RTOP, 112 N. Grand Ave., Pullman Cost: $10, general admission, at the door or by calling (509) 334-0750.