If you went to theater performances in Lewiston during the mid-1980s, chances are you saw Brent Grosvenor.
His theatrical career that began in his third grade class Lapwai has led to hundreds of performances on stages around the country and in Europe. Grosvenor returns to the area to perform his own musical, "The Keys," Saturday and Sunday in Clarkston.
Grosvenor was a rambunctious kid when he got his first lucky break. He was around 8-years-old and was acting up in his chorus class when the teacher issued an ultimatum: If you don't calm down, he said, I'm going to make you sing in front of the entire class.
The threat struck Grosvenor as an opportunity. He requested that he be allowed to prepare a song at home before singing in front of the class. The teacher agreed and next day Grosvenor stood up in front of his class and sang "Hotel California" by the Eagles. It was so good, the teacher had him sing for the principal and that's how Grosvenor, and everyone around him, discovered that he liked to sing and was good at it.
He sang occasionally, did small classroom plays and joined his stepfather's band as he got older, but it wasn't until high school that he got involved with the Lewiston Civic Theatre. His first show was "Camelot," directed by Fred Scheibe, in which he was given a small role in the ensemble.
"It was the last time I was not a lead character," Grosvenor said, laughing.
He was so excited to be onstage and got so into his role that Scheibe had to call him out for upstaging the lead roles. Grosvenor apologized and toned things down -- but from then on, he only took lead roles.
Grosvenor spent his high school years doing productions at the theater with Scheibe, at Lapwai High School with Sheila Scott and took voice lessons from Dorothy Baker in Lewiston.
It was during his senior year -- two months away from auditioning for The Juilliard School in New York City -- when he became a Christian. At that point, nothing mattered to him but his faith. He didn't want to act anymore and he ended his plans to go to Juilliard.
Scheibe had been a friend and mentor to him, training him in theater and preparing him for life in New York City. Grosvenor knew he was disappointed in his change of plans but Scheibe didn't try to persuade him otherwise -- stating only that he thought the world needed to see his talent.
Grosvenor went off to study theology at Northwest College in Kirkland and eventually took a job in Christian ministry back east. But he found he couldn't stay off the stage. A couple years later, in 1997, he started his own production company, Lights Up Productions. The aim of the company is to help people in their spiritual journey as they seek truth and answers to life toughest questions.
Since then he's written and performed nine faith-based professional quality musicals. He composes all of his original music and both produces and performs in all of his shows. Some of them are one-man shows, others have 40-100 cast members.
The production company is currently based in Manchester, Conn., where he has partnered with a church which provides use of a state-of-the art 900 seat theater that regularly sells out shows. Grosvenor is paid for his work through ticket sales at his home theater and honorariums on tours, which extend throughout the East Coast and into Europe.
Grosvenor is returning to the valley for his first performance in nearly 30 years. "The Keys," his ninth musical, is a one man show that uses projection to bring in other characters that he then interacts and sings with, a technique Grosvenor says he's not seen or heard of elsewhere.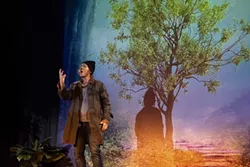 The show tells the story of a Christian man who went from becoming a self-righteous "modern-day Pharisee" to falling back into the darkest sins. His journey leads him to discover the essential keys, or teachings of Jesus.
"It gets down to the essence of who Christ was and is," Grosvenor said.
The show is both inspiring and challenging, Grosvenor said, and connects with people of all ages and religious beliefs.
IF YOU GO:
WHAT: "The Keys"
WHEN: 7 p.m. Saturday and 4 p.m. Sunday
WHERE: Clarkston High School auditorium, 401 Chestnut St., Clarkston
COST: Free