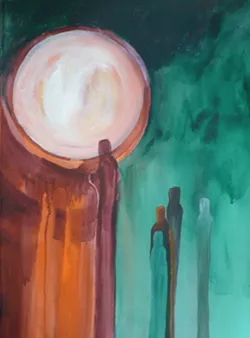 In 1974, seven University of Idaho students of artist Alfred Dunn formed the Palouse Watercolor Socius. Some members, such as Kay Montgomery and Linda Wallace, are still on board today.
Almost 40 years later, Montgomery and Wallace will have their work displayed for the PWS Masters Exhibit on Friday, along with watercolorists Malcolm Renfrew, Flip Kleffner and the late Dunn.
"There are so many watercolorist artists in the area because of Alf Dunn," said PWS member Mary Reed. "For a lot of us, it is not a hobby. We are all committed to do our very best."
Montgomery works with transparency and textures in watercolor, while Wallace works with water media.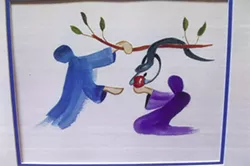 Kleffner, a former Boise politician and UI alumni director, owns a Moscow art studio and Renfrew, 103, who helped develop Teflon and later chaired the UI chemistry department, said he loves the impracticability of watercolor.
As for Dunn, Wallace said the former teacher's work is traditional, and he was best known for his landscape paintings.
"Kay and I were in a review class during Alf's last semester of teaching," Wallace said. "That man was so generous and just making sure techniques were passed on."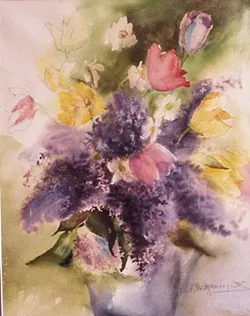 Wallace teaches painting, too, and said the Palouse helped her open up to be a better artist. She said her students, such as Reed and other PWS members, have affirmed the techniques she learned from Dunn years ago.
"Linda and Kay encouraged me," said Kleffner, who drew his entire life, but did not start painting until after retirement. "It's a real thrill when 'Oh, look at that.' It just comes up off the paper."
An opening reception for the PWS Masters exhibit will take place from 5-7 p.m. Friday at Cosgrove State Farm Insurance in Moscow. Each artist will have at least two pieces displayed in the office. The exhibit will run through Nov. 15.
Treffry can be contacted at (208) 883-4640 or ltreffry@inland360.com. Follow her on Twitter at: @LindseyTreffry.
->if you go: WHAT: Palouse Watercolor Socius Masters exhibit reception WHERE: Cosgrove State Farm Insurance, 318 S. Main St., Moscow WHEN: 5-7 p.m. Friday. The exhibit will be open during business hours and runs through Nov. 15. COST: Free