Inspiration for the winning entry in the fourth annual Inland360 Peeps Diorama contest was formed on the tennis court.
A tennis ball and racket, however, are among the few recreational items not included in "Peeps on Vacation," winner of both the 13-and-older category and Peeple's Choice Award. The scene is the work of Jeanne Poxleitner of Keuterville and Kris Klaveano of Pomeroy. The winner of the 12-and-younger category was Carl Stanton, of Deary, with his "Star Trek"-themed entry, "Calling All Peeps." Stanton is the 11-year-old son of Murray and Sarah Stanton.
Poxleitner and Klaveano developed the ideas for their diorama while playing tennis; the two have been doubles partners for a couple years and play regularly at the Lewis-Clark State College Tennis Center where Poxleitner works.
They began collecting Peeps throughout the year, which is why ghost and pumpkin Peeps make an appearance alongside the brightly-colored bunnies. All their planning took place on the court, where they started with the idea of using Peeps to create beach bunnies. The concept of ski bunnies naturally evolved out of that and before long they were laughing about Peeps roasting marshmallows around a campfire.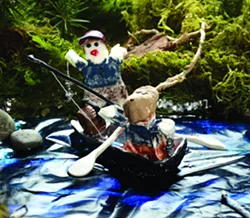 "We didn't keep score, we just kept talking about Peeps," Poxleitner said.
The 3-by-4-foot scene started with a mountain -- for no other reason than Poxleitner wanted to make one out of paper mache -- and expanded to include a sandpaper beach with real sand, a plastic-bag pond with colored water and a cabin scene, all lined with moss and branches Poxleitner collected on a recent trip to the Oregon coast. They had wanted to include a tennis court, but ran out of room.
While Poxleitner worked away at her "Peep-scape," Klaveano created the characters. She learned early on that Peeps have a tendency to melt when anything wet is applied. Puff paint, hot glue and cloth ended up being favorite ways to decorate her characters.
The outfits were only part of the fun. Klaveano used modeling clay to create tiny props ranging from hot dogs and burgers for those around the campfire at Camp Peepers, to sunscreen and beach toys for those sunbathing or getting buried in the sand at Beach Bunny Bay, to goggles and snowballs for those on the snowy Bunny Hill, to tackle boxes and beverages for those at Peeps Fishing Bay.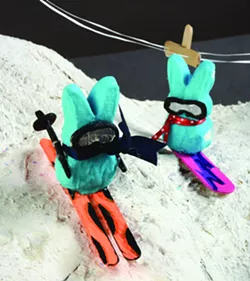 The two created their own parts separately and didn't bring the Northwest-recreation-themed scene together until they met one day at the tennis center to assemble, photograph and submit their entry.
Neither consider themselves the "crafty" type, though Klaveano used to do some painting. But they discussed the idea after last year's contest and decided to go for it.
"There's really nothing on TV anyway," Klaveano said.
The two, laughing as they said so, would like to publicly thank all the "Peep-le" who sacrificed to make this win possible.
Stanton, the 12-and-younger winner, is also a first-time submitter to the contest, but is an experienced hand at creating small items.
"All he does is make stuff all the time," said Judy Anderson, Stanton's grandma, who lives with the family.
The kitchen table is his workshop, she said, and his room is full of various items he's built out of paper, wood or whatever else he can find. He recently got a model battleship for his birthday.
It should come as no surprise that he doesn't play a lot of video games.
As a "Star Trek" fan, Stanton didn't spend too much time deciding on his subject. Construction took bits and pieces of a few days and is comprised mostly of cardboard, Peeps and hot glue -- though there are a few additions, including some black feathers from the chickens on the family's farm.
Besides constructing with materials from around the house, Stanton also creates music. He plays both piano and trombone -- his mom is a music teacher and everyone in the family plays an instrument. In addition to being musical, the whole family is creative and likes to work with their hands, Anderson said. So it should come as no surprise that Stanton would be recognized for his work that way.
"That's what he does," Anderson said.