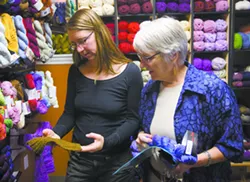 By JENNIFER K. BAUER Inland360.com
With the rise in popularity of knitting and spinning, fiber arts festivals have popped up around the Northwest. The Black Sheep Gathering in Eugene, Ore., Big Sky Fiber Festival in Hamilton, Mont., and the Madrona Fiber Arts Retreat in Seattle were among the closest until June 14-15, 2014 when the Palouse Fiber Arts Festival comes to Moscow.
"If you think about living in Moscow and wanting to go to an event like this you end up traveling six hours in any direction," says festival organizer Shelley Stone. "I figure with this many people being excited about yarn maybe they'd be excited about coming to one in their own town."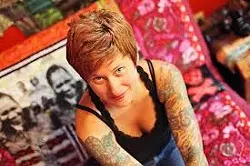 Stone is the owner of the Yarn Underground, a Moscow business selling knitting, spinning, crocheting and felting supplies since 2010. She's held workshops before but the festival is her biggest event yet with national-level teachers coming for two full days of classes and other events.
Among the teachers garnering the most interest, Stone says, are Mary Jane Mucklestone, author of the knitting directories "150 Scandinavian Motifs" and "200 Fair Isle Motifs;" Jacey Boggs, director of Ply Magazine and author of "Spin Art: Mastering the Craft of Spinning Textured Yarn;" and Moscow artist Sarah Swett, who rarely teaches locally and is offering a class in Katazome, the process of Japanese indigo dyeing.
"This might be a once in a lifetime chance to support something like this in your own backyard," says Stone, who has received registrations from as far away as Utah, Wyoming, Georgia and Alaska.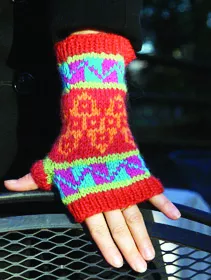 Besides half- and full-day workshops, the festival will feature a market and the talk "All I Need to Know I Learned from Knitting," by Portland knitter Mary Scott Huff on June 14 at the Kenworthy Performing Arts Centre. All the festival's teachers will be at the event, which starts at 6 p.m. Tickets are $10 or free with workshop registration.
A fiber market will be open free to the public from 9 a.m. to 5:30 p.m. June 14 and 9 a.m. to 4 p.m. June 15 at the 1912 Center. The market will feature hand-dyed yarns and fibers, locally grown farm yarns and fibers, Jenkins and Greensleeves drop spindles and other tools, including spinning wheels and looms to try and buy.
A fleece sale will take place from 10 a.m. to 2 p.m. June 15 in the center's parking lot.
"The fleece is sheered right off the sheep. It's not cleaned up and is sold right off the truck. If you want the full experience, that's where you start," Stone says.
Classes include weaving, spinning for drop spindles and wheels, knitting, color theory, wool combing and steeking and are $55 for half day or $110 for full day. Details and registration forms are available at the Yarn Underground at 409 S. Washington St., Moscow, or online at www.palousefiberfestival.wordpress.com.
if you go What: Palouse Fiber Arts Festival When: June 14-15 Where: Various locations in Moscow Details: www.palousefiberfestival.wordpress.com