Whether with watercolors, photography or antiques, Jennifer Holland has been creatively dabbling in beauty for all but the earliest years of her life.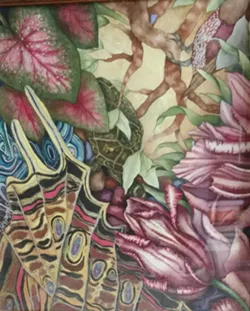 The longtime owner of Splendid Old Stuff, an antique store on the edge of Uniontown, Holland is exhibiting a little of everything from her creative work over the past 40 years, including painted photographic image transfers, acrylic paintings and antique assemblages.
Born in Rochester, N.Y., Holland moved to the Palouse when her father took a teaching position at Washington State University. She'd been creating art since she was a young child and knew early on that's what she wanted to study and pursue vocationally.
"My mother was an artist," she said, "so it just came naturally."
Holland earned a fine arts degree from WSU and expanded her practical education while working in the photo lab at Wasem's in Clarkston, where she learned processes that she began to apply to her art. She began to combine photographic and painting techniques, transferring photos to watercolor paper and then painting over portions of it. The result is a playful tease that draws the viewer closer for a second look.
"I wanted to create a trompe l'oeil, which means 'fool the eye'," said Holland.
Holland opened her antique store in 1989. She'd inherited a good amount of antique items, and after selling items at stores in the area, decided to open up a place of her own where she and her husband were living in Uniontown.
She never intended the store would influence her art, but it did.
"I had a room in the back where I would put all this crazy stuff that would come into the store," said Holland.
One of the more distinct collections in her repertoire is around a dozen sculptures created from antique dress forms -- an inspiration that began when a dress form ended up in her store. She had a piece of bleeding heart embroidery lying around and, on a whim, attached it to the chest of the dress form. Soon other pieces found their way onto the figure, and before long she was developing a concept and finishing the ornate assemblage.
"They're all based on famous women in the past," she said.
Over the next eight years, she continued to add to the collection as dress forms became available.
Other works also are influenced by antiques that show up at Holland's store. She has modeled paintings after the classic Victorian "flora and fauna" theme, and bits and pieces of jewelry and other finds ended up in an assemblage created from an antique bubble glass picture frame.
Holland's creativity doesn't heed the boundaries between her store and her art studio at home.
"It's the appreciation of the thing, the beauty of the thing," she said.
IF YOU GO:
WHAT: Jennifer Holland: 40-year retrospective opening
WHEN: 1 to 3 p.m. Sunday; exhibit continues through Oct. 29
WHERE: Hayloft Gallery, Artisans at the Dahmen Barn, Uniontown
COST: Free