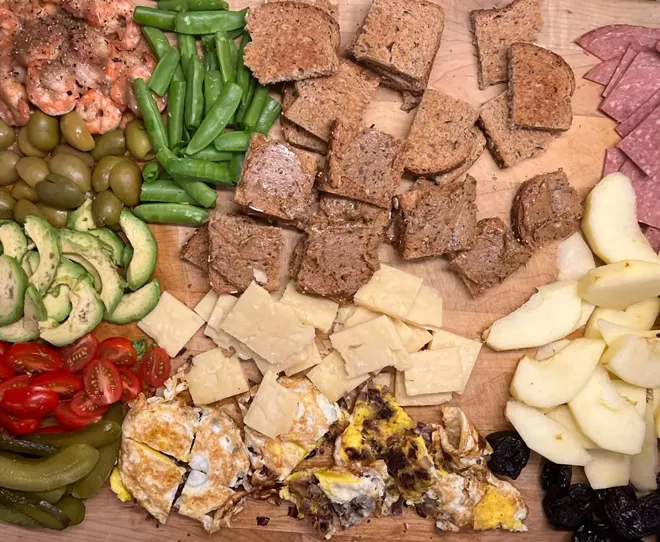 A hip friend introduced my family to charcuterie boards at least a decade before they filled the pages of every lifestyle magazine and social media site.
Technically, the French term refers to cooked, processed or cured cold meats, but the boards I've encountered include a larger combination of foods.
Because of my friend, my family has savored charcuterie boards while watching sunsets next to mountain lakes, on backyard patios and sometimes dunking in and out of a swimming pool.
It is impossible to overstate how decadently delicious it is to nibble a slice of prosciutto, paired with cheese and perhaps a slice of apple, while sipping a glass of wine.

Likely because my friend is so expert at it, often even making her own jam for the spread, I never attempted my own — until December, when I made them for a number of holiday gatherings.
One of the beauties of the charcuterie board is its flexibility. It can be simple or complicated, and it often can be assembled with ingredients already in the pantry and refrigerator.
The most recent one I completed began with Kerrygold Dubliner cheese and bologna in our freezer, left over from when 4 Frendz Meat Market in Clarkston made its own.
From there, my creativity took over, stopping only when every inch of our largest cutting board was covered.
Like any good charcuterie spread, it was a choose-your-own-adventure picnic. Totally by accident, it had plenty of vegan, vegetarian, gluten-free and pescatarian options.
.
Some of the components tasted mind-blowingly better together than they did by their exquisite selves. Some didn't. That's always part of the fun.
While charcuterie boards peak when they are shared with friends and family, they aren't exclusively for special occasions. My husband and I split this one to top off a fun Saturday.
Cured meat: As stated above, this one had bologna saved from when 4 Frendz Meat Market in Clarkston sold its own. It can be anything though, such as meatballs, summer sausage or even Lit'l Smokies. Stating the obvious, make sure everything is thoroughly cooked.

Other protein: I stir-fried a couple of handfuls of shrimp from the freezer with a bourbon vinegar from Lewiston's Ampersand Oil & Vinegar Tap House, adding a little flour at the end to thicken the shrimp juice and vinegar into a sauce. Then I topped them with extra salt and pepper. I also minced about half an onion and microwaved it for two minutes. The cooked onion and some ranch powder went into three eggs I fried individually on the stove in avocado oil, then cut into fourths for the board.

Cheese: Here is where you don't want to skimp, keeping in mind you don't need a lot. Splurge on something a little extravagant such as a nice cheddar or brie.

Carbohydrates: Something flat and plain works best because the goal is to create a delivery system for the other ingredients on the board. I toasted whole wheat bread we had on hand and cut each slice into sixths. Sourdough bread and plain Triscuits are great.

Experiment: Since it was there, I smeared nut butter on about half of the toast pieces. On a whim, I added Dubliner cheese to one and found it launched one of my all-time-favorite foods into a whole new stratosphere of deliciousness. I had another and another and then went to the kitchen and sliced additional cheese to have more.

Veggies: Avocado is the vegetable most like cheese, so it's a natural on a charcuterie board. This board had baby tomatoes and sugar snap peas too. The avocado and tomato went on the plain bread with the egg for mini avocado toast. The sugar snap peas were mostly a diversion from the board's other decadent components. Sliced jicama, radishes or cucumbers and baby carrots can fill a similar role.

Pickled items: Almost anything in a salty brine goes well with meat and cheese, making pickled items solid additions. On this board, we had standard-issue dill pickles and olives. Of course, they were wonderful with the cheese. They also were excellent with the avocado, eggs, toast and tomato.

Fresh fruit: Apples are my favorite by far, perhaps because they are readily available and easy to prepare. Cherries, if you have the patience to pit them, would be nice too, as well as cantaloupe or honeydew melon when they are in season.
Dried fruit: Yes. Those are prunes in the lower right-hand corner. Don't judge. An apple slice with a prune and a slice of bologna dipped in maple syrup was one of the best bites on this charcuterie board. Dried apricots or figs are options as well.
Toppings: We used maple syrup. Consider jam, honey or balsamic vinegar.
Possibilities not pictured: Smoked salmon. Pickled herring. Jarred, roasted red bell peppers. Quick breads such as pumpkin, apricot or banana bread, preferably made from scratch and toasted. Candied, roasted or salted nuts such as almonds, pistachios, cashews or walnuts. High- or low-brow sweets, including M&M's, Hershey's Kisses, caramels and peanut butter fudge. Cheese popcorn. (That's not a joke. It's delicious.)
Extra tips: Cut everything in bite-size, relatively thin pieces for hassle-free mixing and matching. Give everyone sharing your charcuterie a pile of toothpicks, a small plate, napkins, a knife and a fork.
Consider setting aside $15 on a grocery run for charcuterie items. Then scout Ampersand Oil & Vinegar Tap House, the Grocery Outlet Bargain Market, Huckleberry's Natural Market at Rosauers, the Moscow Food Co-op and even the bargain rack at Albertsons for ingredients. Grocery Outlet can be a great place to get nice cheeses to use soon.
Wine: Wine is to a charcuterie board what salt is to food. Pour a glass of your favorite, remembering this area's wines are turning heads in important circles.
Williams is the business editor at the Lewiston Tribune. She can be contacted at ewilliam@lmtribune.com.