It looks like the heat is on this week, but don't let it interfere with the fun. It's a dry heat, after all. If you're outdoors, seek out a sprinkler or river to cool off, and if you're indoors, enjoy the AC. Check out the calendar for even more events.
Aug. 9
The Latah County Historical Society's final Campfire Tales of the summer is 7:30 to 9 p.m. Aug. 9 outdoors at the McConnell Mansion in Moscow.
The free event will feature stories told over a campfire by artists, authors and other community members, and attendees are asked to bring blankets or lawn chairs for seating. S'mores ingredients will be provided.
The mansion is at 110 S. Adams St.
Aug. 10
Nu-Blu brings its brand of bluegrass back to the region with the sixth and final performance of the Artisans at the Dahmen Barn's summer concert series at 7 p.m. Aug. 10 in Uniontown.
Nu-Blu is based in Siler City, N.C., and is led by the husband-and-wife duo of Daniel and Carolyn Routh, with Calder Baker and Justin Harrison rounding out the quartet. The band, which got its start in fall 2003, tours more than 200 days a year, and its sixth and most recent studio album is titled "Vagabonds."
Tickets are $15 each and are available at the door beginning at 6 p.m. Snacks, beer and wine will be available for purchase during the concert.
The barn is at 419 N. Park Way.
Aug. 10
No Quarter, a Led Zeppelin tribute band, will play a concert beginning at 8 p.m. Aug. 10 at Boomers' Garden in downtown Lewiston.
Doors open at 6 p.m. for the outdoor venue at 0301 Second St.
Tickets for this all-ages show are $15 to $20, and may be purchased at Zone 208, Lewiston GNC or online at www.ticketfly.com.
No Quarter has been performing a Led Zeppelin live concert reproduction for the last 15 years, and recreates an authentic look and sound, according to the band's website.
Aug. 10-11
Folkslinger and the Maple Bars, two bands based in the Pacific Northwest, will play together this weekend at venues in Moscow and Clarkston.
The bands will play beginning at 9:30 p.m. Aug. 10 at John's Alley in Moscow, 114 E. Sixth St., and at 9 p.m. Aug. 11 at Hogan's Pub in Clarkston, 906 Sixth St. Cost for the Moscow show is $5.
Folkslinger brings Americana and folk music from their base in Portland. The Maple Bars are a psych-rock band based in Clarkston, and members are Mason McCroskey, Adam Hopkins, Laki Ahi and Bill Wilcox.
Aug. 11
Children will receive free live lady beetles to release at home when they attend this week's Science Aug. 11 in the Arboretum program Saturday at the University of Idaho in Moscow.
The free program, titled "Beneficial Insects of the Palouse," will be from 9:45 to 11 a.m. and will meet at the Red Barn at the arboretum's south end. There is a limit of 25 children per program, and those age 12 and younger must be accompanied by an adult.
Attendees will learn about the diversity of insects on the Palouse through interactive stations with members of the UI's Aldrich Entomology Club.
More information about the event is available by emailing sciencesaturday@uidaho.edu.
Aug. 14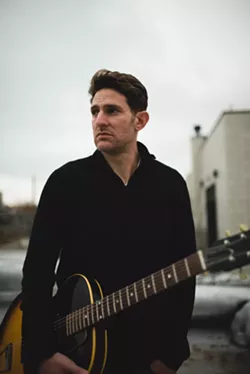 Singer-songwriter Joe Goodkin of Chicago will play from 7 to 9 p.m. Aug. 14 at One World Cafe in Moscow. Goodkin is touring in support of his latest release, 2017's "Record of Love," the final entry in a trilogy series of EPs. He released "Record of Life" in 2015 followed by "Record of Loss," also in 2017.
The cafe is at 533 S. Main St. There is no charge.